Glow Medi Spa has long been recognized nationwide for their quality services and exceptional team of caring professionals. With three convenient locations in some of Toronto's most distinguished neighbourhoods, (Yorkville in downtown Toronto, Aurora, and Markham) Glow Medi Spa is able to provide the highest quality of service in medical aesthetics throughout the GTA. Their reputation stands for itself.
Dr. Diane Wong, MD is the founder and medical director of Glow Medi Spa. For over 15 years, she has taken Glow Medi Spa to new heights in the medical aesthetic field. She has trained and led her team to win several awards including Top Medi Spa in Canada for 2017. She stands behind the reason for her success as adhering to her personal and professional philosophy which is "to consistently provide exceptional quality service with the highest standards while focusing on client satisfaction and safety". Dr. Wong is regularly interviewed and quoted in some of Canada's top media sources for her medical expertise in cosmetic treatments (see her well-populated media page on glowmedispa.ca). Dr. Wong's most celebrated claim to fame has been her "Baby Steps Approach" to cosmetic injections which empowers you to look and feel your Natural Best.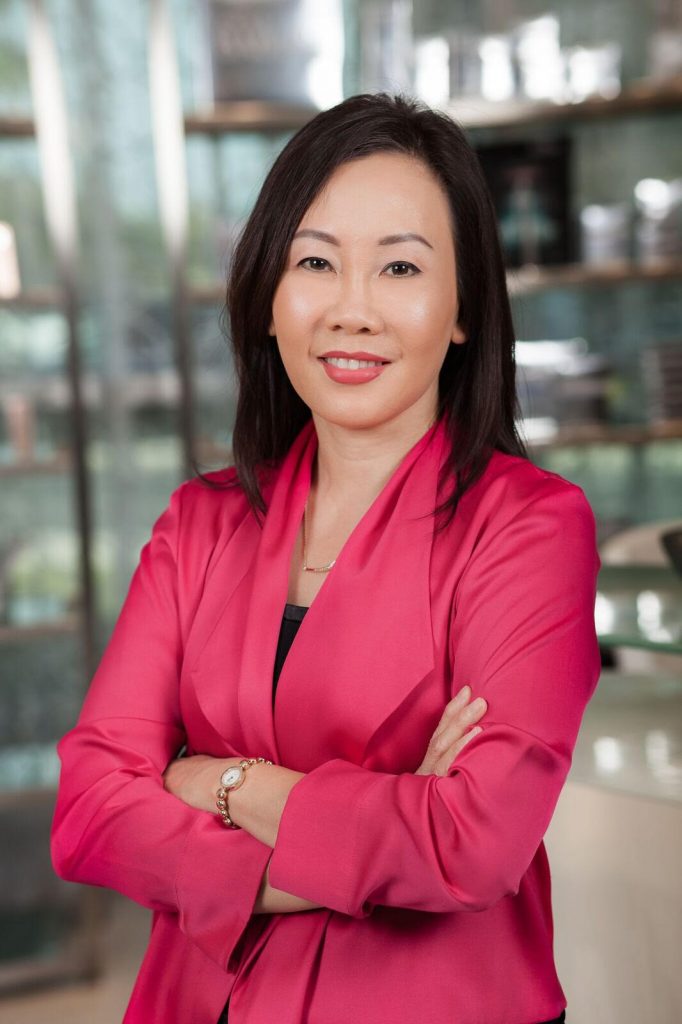 Dr. Diane Wong
Redefine Your Beauty with Dr. Diane Wong and her team
Glow Medi Spa provides innovative, non-surgical cosmetic treatments in luxurious spa settings. They specialize in "lunch-time" treatments for clients who value natural looking results with minimal to no down-time. Glow Medi Spa's award-winning medical spa services include: advanced skin treatments such as OxyGeneo, VoluDerm and e-Dermastamp microneedling, SculpSure and TriLipo body contouring, Pollogen skin tightening, along with the highest technologies in laser and light treatments. All treatments are carefully customized to individual skin types and skin conditions. The most popular injectable treatments are Botox®, dermal fillers (such as Juvederm® and Restylane®), BELKYRATM, SkinboostersTM., and sclerotherapy for spider veins. Trend setting treatments such as microblading for the eye brows and for the scalp are also in high demand.
Glow Medi Spa caters to the discerning clientele who value consistent, quality service and want to develop a long-lasting relationship, becoming a partner in their anti-aging and beauty-enhancing goals. A thorough, insightful consultation and assessment forms the framework for developing customized treatment plans. Each client is unique and a personalized consultation with a knowledgeable team of professionals is invaluable in forming a solid foundation. Typical goals for our clients are to look as good as they feel and to be confident with their appearance. Glow Medi Spa has the expertise and the tools to be able to meet their client's diverse beauty needs and goals with non-surgical medical treatments. Glow Medi Spa wants to become your partner in helping you to Redefine Your Beauty!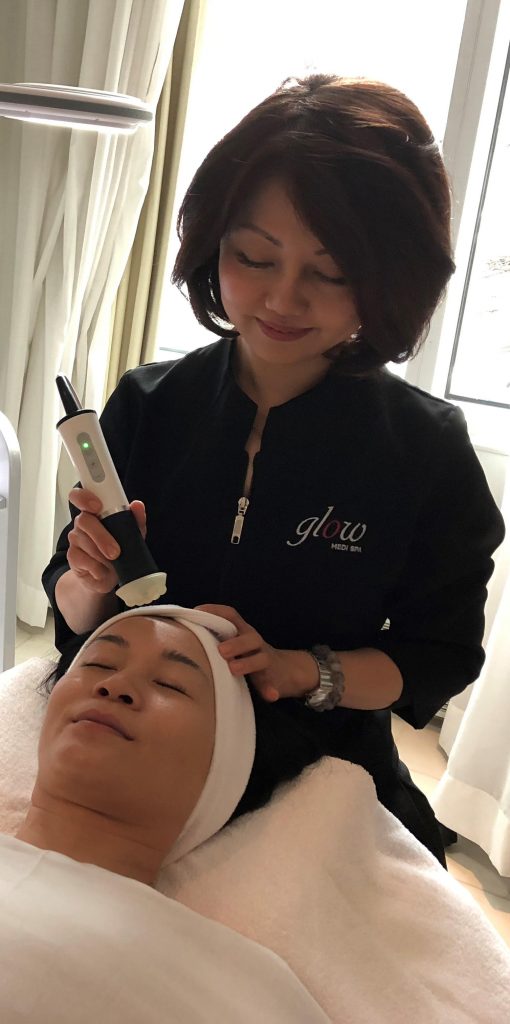 One of the most popular skin treatments at Glow Medi Spa is OxyGeneo. OxyGeneo is available at all three locations and is in high demand since its introduction several years ago. It is often a new client's introduction into Glow Medi Spa and new clients often come in seeking the OxyGeneo treatment by name. Once their clients try it, they love it. It then commonly becomes their ongoing maintenance skin treatment. Glow Medi Spa has frequently been featured in many popular media sources throughout the years, sharing their positive experience with OxyGeneo.
What is OxyGeneo?
OxyGeneo is a breakthrough skin revitalizing treatment. Backed by scientific studies, Oxygeneo achieves #1) exfoliation, #2) infusion, and #3) oxygenation, resulting in smoother, brighter, softer skin.
It achieves results of three different medical skin treatments commonly done in the past, namely, microdermabrasion, chemical peels, and oxygen facials. That's why it's called the 3-in-1 Super Facial. This innovative treatment saves time and money and is a quicker path to the result that women (and men) want; glowing skin. Results are efficient and immediate.
How does it Work?
The treatment itself was inspired by the healing powers of hot springs and the OxyGeneo technology is based on pure science and a well-known physiological phenomenon called the Bohr Effect. The OxyGeneo technology creates a chemical response between the ingredients in the Capsugen (which is single-use only and placed on the hand piece) and the ingredients in the gel massaged onto your skin. Tiny CO2-rich bubbles result and are even seen on your skin as the reaction occurs. The body will react to the increased CO2 by increasing your circulation and sending more oxygen rich blood up to your body's surface. This is a natural, more effective way to achieve oxygenation of your skin vs oxygen machines on the market now which externally infuse oxygen into your skin.
When your skin is oxygenated, there is increased capillary blood flow and increased cell metabolism so the skin will more readily accept the nutrients in the gel that are being infused. Ultrasound technology is also utilized in the treatment to allow even greater penetration of the products deep into the skin.
In the NeoRevive Product, the active nutrients infused are: hyaluronic acid, peptides, and retinol, which are great for anti-aging, repairing and regenerating the skin. In the NeoBright Product, the active nutrients to lighten and brighten the skin are: kojic acid, azelaic acid, and retinol.
OxyGeneo also exfoliates the skin and is much gentler than microdermabrasion. The ingredients of the Capsugen are strategically utilized as the roughened surface to exfoliate with the vibrating head of the machine. They interact with the nutrient gel placed on your skin, creating a wet, foamy treatment that cleanses, exfoliates and even gets into deep pores. OxyGeneo is not done on dry skin and there is no vacuum or suctioning like there is with microdermabrasion.
Additional benefits of skin tightening can be achieved using Radiofrequency (RF) technology which is also available on the same machine. RF tightens the skin anywhere on the face such as on the cheeks or even around the eyes.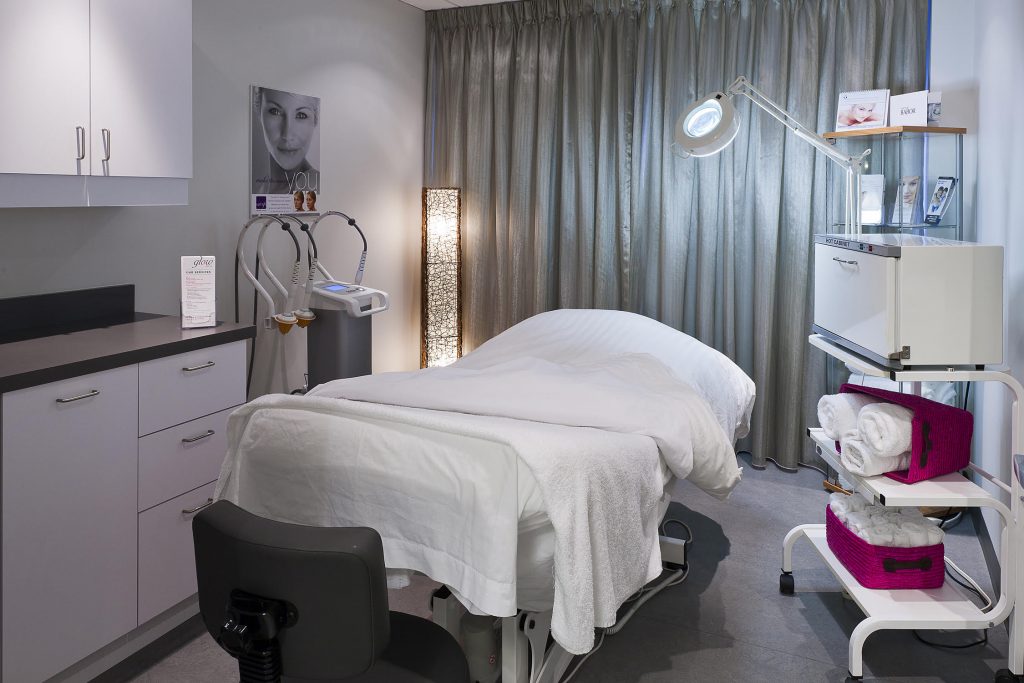 What results can someone expect from this treatment?
OxyGeneo is a strong effective treatment with no downtime. There may be just mild redness after the treatment which quickly resolves. In comparison, other treatments with high efficacy usually have downtime.
The three benefits of exfoliation, infusion and oxygenation lead to smoother, softer, brighter skin, vibrant glowing skin. You can immediately see and feel the difference and clients love it. You also get rejuvenation of the skin, with less blotchiness, redness, and sun damage. With repeated treatments, benefits include a reduction of fine lines, pores, acne break outs, and pigmentation. Best results are seen after 4 to 6 treatments. You can start off weekly for the first few treatments and then every three to six weeks thereafter. Once the series is completed, a maintenance treatment is suggested once a season or before a special occasion.
Who would be a good client for this treatment?
OxyGeneo is often Glow Medi Spa's "go-to" treatment as it is safe in all skin types including ethnic skin. It is suitable for many skin conditions and age groups. It is super hydrating so it is great for dry skin and oily skin alike. OxyGeneo is a great teenage facial as well as anti-aging facial. It is a perfect treatment for a new client to introduce them into medical aesthetic skin treatments. They will see immediate results without any worry of downtime or pain. They will see even greater results with repeated treatments. It is ideal for a client who wants to look rejuvenated, brighter, and fresher. Since there is no downtime, it can be recommended for event treatments such as pre-weddings and social occasions.
To experience the many benefits of OxyGeneo, call to book your appointment at one of Glow Medi Spa's three convenient locations in Yorkville, Aurora, or Markham.
Yorkville
129 Yorkville Avenue, 4th Floor
Toronto, ON M5R 1C4 
416.920.9998
Monday: 10am-5pm
Tuesday to Friday: 9am-8pm
Saturday: 9am-5pm (also open on long weekends) Sunday: Closed.
Aurora
15435 Yonge St.
Aurora, ON L4G 1P3
Tuesday to Friday: 9:30am – 5:30pm
Saturday: 9am – 5pm
Sunday, Monday: Closed
Markham
8500 Warden Avenue (in Hilton Suites Hotel)