"It's all about staying positive." Jennifer Nikkel-Walls is sitting in one of the treatment rooms at Riverstone Spa in Winnipeg, talking about spa treatments for cancer patients and cancer survivors.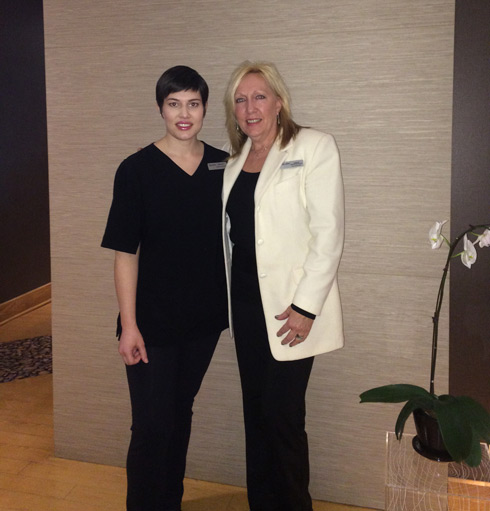 There is an intensity in her voice that suggests she understands it in a way only cancer survivors can – the nightmare cancer patients go through and just how hard it is for cancer patients to stay positive.
"When you're dealing with this affliction, nearly everything is bittersweet. It's impossible to be positive all the time, and it can be a slippery slope into severe depression.
"It's so important to accept the bad days, to pick yourself up again, and go on living because that is the reason we fight."
Jennifer took it a few steps further. She decided to become a registered professional with the International Society of Oncology Estheticians, undergoing training thorough "Touch for Cancer", based in Saskatchewan. Their program is called Oncology Training International (http://oti-oncologytraining.com) Jennifer is the only registered professional in Manitoba.
"Anything that can be done to make the cancer journey less horrific is a valuable commodity."
The course covered topics like how cancer behaves, the treatments that can be used and how they may affect the body. At the end, she says, you're able to modify your treatments to accommodate people who are going through treatments or those who have had cancer, even it's years after they've had a treatment.
[pullquote align="full" cite="" link="" color="" class="" size=""]"There are often long-term side effects that need to be approached in a certain way, essentially for someone who's currently going through treatment."[/pullquote]
There are concerns, for example, that a lot of skin conditions can occur, mostly with chemotherapy. There can also be change to the skin caused by radiation. And if the lymph nodes are affected, you need to adjust massage techniques, and know what types of products and ingredients to avoid and what to look for.
A lot of what she does is offering advice on how cancer patients and survivors can take care of their skin.
A big part of it is not completely changing your services or necessarily offering oncology services but accommodating people as needed. "That's important because two people on the same chemo therapy drug can have completely different side effects.
"It's looking at the symptoms and also knowing what to be aware of, such as blood counts – one of the biggest concerns because if there's any chance of infection, it's a huge concern for someone going through chemotherapy."
As an Oncology Esthetician, she is able to address risks associated with low blood counts; chemo-induced skin conditions; nail disorders; surgical scars; radiation areas; missing or radiated lympth nodes; various side effects like dry mouth and hot and cold sensitivities; over-all skin care during treatment; pre-cancerous skin lesions; loss of eyebrows and lashes; and physiological effects.
"The purpose is not to treat the cancer, itself, but to treat the person as a whole, and these therapies help a person cope with cancer, its treatment or side effects, and to feel better."
She also has each of her clients provide an update on their condition, medications, etc., every time they come to the spa.
For Janice Colatruglio, Riverstone's spa director, it's one of the things that make her spa different and unique.
The spa is located on the main floor of the Inn of the two Forks, a major historical spot in Winnipeg, where the Red River and the Assiniboine meet.
"We've also worked a lot of our treatments around the location. We called our spa Riverstone and have incorporated stones in our treatments," said Janice.
She also created a number of indigenous treatments, working closely with Thunderbird House in Winnipeg to enlist its help in incorporating indigenous techniques into the spa's treatments.
"We felt a need to develop a treatment that would complement and reflect the history of our area, and with the support and encouragement from the First Nations community, we created the Riverstone Indigenous Hot Stone Massage."
This grounding treatment incorporates aboriginal traditions and practices, using hot baslt and cold marble stones. Sacred elements such as cedar, sage and sweet grass are also used to enhance the experience "of true cleansing and the strengthening of the body, mind and spirit".
In recognition, the spa was presented with an authentic eagle father, which is used in a ceremonious segment of the treatment, where the client and the treatment room are cleansed  or "smudged", using smoldering sage and leaves.
Braided ribbons, representing the four colours of the four nations, and a star blanket, made exclusively for the spa, are also incorporated into the décor. Cedar and sage teas are served, and sweet grass candles are lit to enhance the spiritual nature of the treatment.
Linda Biomme, resident elder of the Circle of Life, Thunderbird House, liked what she saw on her visit to the spa. "The décor made me feel welcome with the sacred elements of cedar, sage and sweet grass in the room. I certainly felt a sense of inclusiveness."
Smudging is used to clear the room of any unwanted energy. Smudging begins in the East "because it's where the sun rises and gives us strength. The eyes are cleansed so that we can see the truth; our mouth, so that we speak the truth; our  ears, so that we can hear the truth; our hearts, so that we feel the truth; and our feet, so that we can walk the true path".
Its Indigenous treatments include Riverstone's Indigenous Hot Stone Massgage and body treatments like Sacred Nature Organic Face and Cocoon, Sacred Naruee Organic Relaxations, Grotta Gulsti Signature Face and Body Cocoon and its Purifying Back Regimen.
The spa offers a full range of services, ranging from massages and facials to foot therapy treatments, etc., "with the emphasis on what's different and unique" like its Zero Gravity Chair, which relines all the way back so that you feel you're in a higher position than your head. "We perform all our hand and foot treatments this way."
The spa uses Comfort Zone from Italy in its spa  treatments and Jane Iredale for its cosmetics.
Bob and Diane Sparrow, who own the hotel, have worked closely with her over the years. Their son, Ben Sparrow, is now general manager.
Like other spa directors, Janice has had her share of challenges. Initially, it was getting construction of the spa done on time. The spa opened a couple weeks after the hotel opened its doors.
"We actually opened up missing the glass door to the spa. We had to put our retail products away and lock them in our dispensary every night until the glass doors finally arrived."
For Janice and her team, every day has its own challenges and she has learned over the years to deal with them as they come along. "We try to learn from our mistakes and when someone offers constructive criticism, we regard it as a positive. If you run your life that way, things go more smoothly."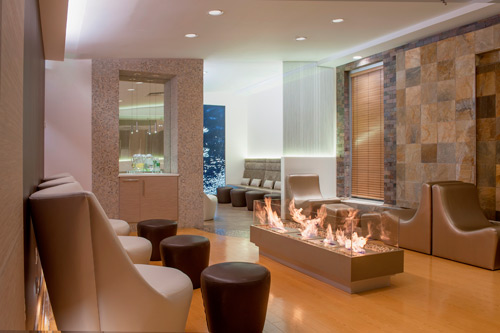 You get a pretty good idea of what the spa is like even before you walk through the glass doors and into the spa's retail and reception area.
The spa is located on the main floor of the hotel and clearly visible from check-in. A "river" – a small, 12-inch wide flow of water – starts from the front of the hotel lobby check-in and flows all the way into the spa, past the spa area and into the spa's lounge.
"It's also an invitation to follow the stream unto the spa for a natural spa experience and a complete escape."
But it's also a big challenge to keep that "river" sparkling clean, adds Janice. But a lot of our guests are amazed by it and like to play in it.
The spa also has two water walls – one in the retail waiting room area and the other, at the back lounge – where the water trickles down into the river.
As you enter spa reception and its retail area, you're met by a retail co-ordinator and a makeup artist to answer with any questions about the products it sells.
You'll also be met by one of the spa's two receptionists to guide you through check-in and escort you to a locker room, where you'll exchange your shoes for sandals before being taken to the back of the spa and its Quiet Zone to get ready for your treatment.
The men's and women's locker rooms are also located in the Quiet Zone. Each locker room has its own shower and steam rooms and a sauna.
The spa has 12 treatment rooms that feature indigenous art on the walls, which are painted in earth tones.. The floors are inlaid and designed to give the appearance of river stones.
One of the big lessons she's learned along the way is to be mindful of your surroundings. As a spa director, you need to what your staff and clients are saying "because they provide the best information for you.
"Listening is hugely important – probably the most important thing every esthetician can do."
Her advice to someone thinking about starting their own spa – do a lot of research on your own.
"During the entire time I've been in the industry, you never stop learning – you have to keep up to date on what's happening in the industry – what's new; check out the competition; know what other people are doing; what's the latest and the newest; be different; and don't copy what the competition is doing."
During her career, Janice has operated her own spa, worked as an esthetician in other spas and taught esthetics before becoming spa director at Riverstone.
Janice is vice-president for Provincial Trade Advisory For Manitoba board (PTAC ) and has sat on that board  for the past five years, representing Esthetics and Electrolysis trade.
Learn more at www.riverstonespa.ca