When searching the web for places to receive spa treatments for men most are finding high ratings for home spa businesses serving male clientele for grooming and spa treatments.
When asked what appeals to them about a home spa, most men say that they don't want to be mixed into a "full on" spa experience by sharing common treatment areas  with a group of strangers. Top picks by men are spas that are esthetically pleasing to the eye and provide personalized one to one treatments in a home based business setting. These work-live spaces are not only economical to operate; but also provide the client with a genuine experience of a home away from home.
My 1st home spa business venture astonished my accountant, calling it my "cash cow" showing financial profits beyond the norm. I had taken my 1,600 square foot, two level home and divided it into a living quarters upstairs, then using the main floor for my commercial venture. I employed 7 massage therapists, and I provided hair styling, skin care, and grooming. The duo-zoning permitted me to have signage out front, and parking in the back. Not only did it take me 1 minute to get to work in the morning but I was able to write off part of the interest on my mortgage, most of my utility bills and dramatically decrease municipal and annual business taxes.
Since then, I have been providing training, or as I call it; "Add onto your vision options." to many spa entrepreneurs and encouraging them to create their home spa oasis for men. Here are some successful graduates and their statements why they created a home sweet home spa: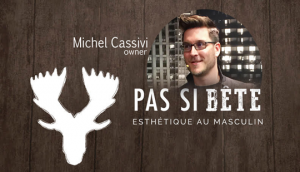 Michel Cassivi – Owner of "Pas si bête" Esthéthique au masculin
The idea of having my home studio began when I realized that the ever-growing male consumer population was not being taken into consideration with regular spas. I thought to myself "If they won't do it, I will" and since then, focused my goal on offering not only full esthetic services targeted specifically for men but ensuring an educational experience for those who require it. 
Working one on one in a home studio is very beneficial for me as it allows me to target men that don't have "their place" in a traditional esthetics salon.  The experience from a man's point of view is very casual. This is their "man-zone", without the lace and ruffles.  Being in a more private environment, my clients open up more and the guys feel comfortable asking questions about their skin and body hair.  They want to feel comfortable in their man chamber and want quick and accurate results in a hassle free environment.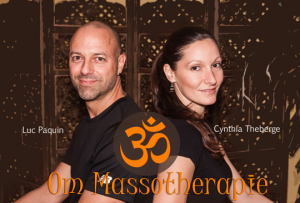 Luc Paquin and Cynthia Theberge – Owners of "Om Massotherapie"
Together as husband and wife we decided to become business partners and create a home spa. I've been a massage therapist for over 15 years and my partner, Cynthia, recently became a registered massage therapist. We knew something was missing; it was now time to expand the dream. I had recently taken ASHe's manscaping certificate course in manscaping because I had clients asking where they can go to get body hair grooming done. I had noticed the spa industry wasn't providing proper male services.
Cynthia feels people are stressed enough waiting in lines everywhere they go without feeling like a number with a tight scheduled worker in a spa. That is why we call our home spa "Om Massotherapie".
Our clients choose their experience from our à la carte menu that aligns the need to their current state of mind. It's a five senses adventure! 
Bravo Michel, Luc,Cynthia and all of you creating an entrepreneurial difference in the spa industry!
Important note: Always check zoning, condo rules and insurances first before taking the leap into creating any home based spa. Contact me for any questions regarding consulting and training.
Hugs…ASHe
Proofed by: Andrea Blake
To learn more about me visit my website.