Argan Oil.
If it's not on your radar now, it probably will be over the next year or two.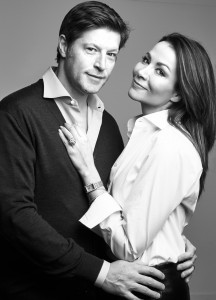 Danielle Candoni-Finkelstein, co-founder of Montréal-based Argan Lounge, sees it as part of a new direction towards organic, natural and multi-functional anti-aging cosmetics.
"It's more than a trend," adds Danielle, who likes to be called Dani. "Argan oil is our top anti-aging weapon and one of the most precious organic ingredients you can use on your face and body."
Argan Lounge has 15 products that include pure Argan oil and 13 Argan-based elixirs
They have a lot going for them.
"They're multi-functional and their simplicity is striking."
Argan Lounge's products help slow aging by promoting the renewal of skin cells by making your skin more elastic, and reducing fine lines, crow's feet and wrinkles. Its sterols also stimulate the structure of cell membranes and improve skin metabolism.
Its fatty acids – essential Omega 6, which counts for 45%, and non-essential Omega 9, 35% — lock in the moisture of your skin cells.
There's a new cosmetic consciousness among women today. People want luxury today, she says, but are also concerned about the real cost chemically loaded products might have on their skin. They also want to know exactly what they're putting on their bodies, where it comes from, and how it's made.
"In the case of Argan Lounge, we're putting products on the market that not only allow the public access to this luxury but tell them where they're produced. In our case, in a cruelty-free, fair trade and equitable way.
"This is as important to us as it is to them," says Karim Alexis Candoni, president, co-founder and Argan Lounge's director of marketing,
With Argan Lounge's products, clients know exactly what is being applied to their skin and that these products are high performance – without the use of chemicals or needles.
Nor do you need to nurture your skin by infusing it through procedures like microdermabrasion because Argan Lounge's elixirs work deep inside the layers of your skin – so that the effect will come from the inside out.
Argan elixirs are safe for all skin types and all age groups, and work as an antiseptic by eliminating microbes on the surface of your skin and protecting it from germs and fungi.
"In addition," he adds, "it's easily absorbed and leaves your skin smooth and glowing without being greasy."
Adds Dani: They're also ideal during detox. A prominent health coach and nutritionist recommends using Argan Lounge's products to her clients when they detox. Many of her clients are celebrities, who agree.
"The main reason for detoxing is to clean your body of toxins and other impurities," says Dani. "Many toxins we absorb enter our body via the skin, and that's why it's crucially important to use only natural products when cleansing our bodies.
"Otherwise, the effect is zero. If you use chemically filled or manufactured skin care, it's the liver that eventually absorbs and works on minimizing the waste – and the effect of any detox is essentially zero."
Argan Lounge's products can prevent and reduce stretch marks caused by weight fluctuations and pregnancy, and protect the skin from environmental influences. This is because they have a high degree of Vitamin E, which has shown to be effective in fighting free radicals that constantly attack our skin.
These products are also effective in treating skin problems like exzema and acne as well as age spots.
"They reach into the deeper levels of the skin, making them an amazing moisturizer for your skin and your hair. They're so soft, in fact, they can be even used on infants."
Even if you skip treatments for a couple of days or even a week, it won't matter, says Dani. Your skin will be rebalanced in the long term.
Many spas make Argan Lounge's products part of their facial and massage treatments. All you have to do, she says, is incorporate them into the treatment you're doing. They absorb well, help to heal skin damage and usually give clients a feeling of change in their skin.
On the plus side for the esthetician, Argan Lounge's products can replace the oils and creams used during facials, or in giving a massage, or for decoletée and scalp treatments.
"There's a lot of added value in replacing existing creams and oils with Argan Lounge's elixirs during spa treatments. They nourish the skin deeply with vitamins and Omega 3 and six fatty acids. Omaga 3 is essential for healthy skin, organs and youthful appearance but it cannot be produced by the body and needs to be infused into the skin by food and skin care."
Best of all, adds Karim, Argan Lounge's elixirs are easy to incorporate and added into all spa treatments. They can also be used to immediately calm the skin after waxing or laser treatments and reduce swelling or red or peeling skin for days.
"In the case of facials, the moisturizing effects of our products will last much longer and be more profound – without any oily residues – a lot of added value for the client."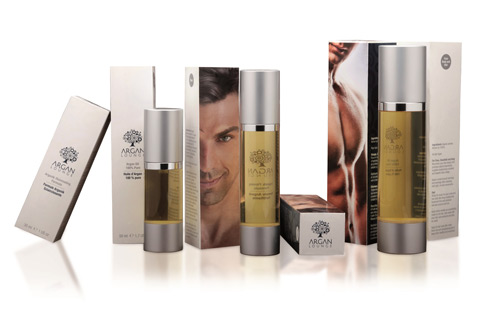 Argan Lounge's elixirs can also open a new customer base for spas – clients who want natural skin care only as well as people who have very sensitive atopic skin or skin that reacts allergically to different ingredients in common products used during treatments.
The elixirs are also anti-inflammatory and can be used on patients who suffer from severe conditions like burned skin and even cancer.
Argan Lounge's products can also be used as separate treatments, in fact, on all body parts, including hair and nails.
As a pure oil, she says, it's a great massage oil with different and added benefits. It penetrates the skin and does not need to be showered off after the massage and leaves the body feeling hydrated.
"They're also a great way to nourish your hair and scalp and re-establish the brilliance, and tame frizz and chemically treated hair. In this instance, the oil is applied to the full length of the hair, using a brush. The hair is then covered with a warm towel or dried under a heater for 20-30 minutes before being washed and styled. The results are immediate and offer much more added value than all the treatments that claim to be the Botox for your hair."
The Argan Lounge Deluxe Treatment begins with an Argan Lounge Scrub, followed by a body polish and massage with warm Argan oil, which is left to dry under infrared lights, while hand and feet are massaged, also with one of Argan Lounge's products. The treatment ends with a hair and scalp massage with Argan oil and a face mask.
All products are available in spa sizes of 350 ml and 1litre pure oil as well as a scrub and mask for spa use.
Argan Lounge also offers on-site training, where its trainers show estheticians and therapists how to apply each of its 15 products as well as how to use them together, and how to sell them to clients. It is also prepared to work with spas to develop their own special treatments, including whole natural treatments.
"We have spas that use it as a full body exfoliator and follow it with an Argan oil massage to lock in its moisturizing benefits," says Karim.
Many spas use it as a full body exfoliator, followed by an Argan oil massage, which not only confers the effect of a massage oil but also doubles as a moisturizer. When Argan oils are used in a massage, they leave you with the feeling you don't need to take a shower. That's because they enter into the deeper levels of the skin.
In addition, says Dani, Argan Lounge has managed to keep product costs down to make them more attractive to spas and their clients.
Hair salons also love it because it doesn't weigh down the hair or clog the pores or leave any residue.
She also raises another interesting point: With some skin care products today, we really don't know what the long-term effect their ingredients will have on our skin or bodies.
"It's a concern for a lot of women today. You see it the growing preference of clients for ingredients that do not contain certain chemicals, typically anti-aging products."
And while Argan oil products are all natural, she adds, you still have to be careful in choosing the right Argan oil product.
One of Argan Lounge's biggest challenges is educating spas and their clients about Argan oils and why Argan Lounge's products differ from others in the market.
"We start off by asking them to forget about what they know about the so-called Morocco or Argan oils they've experienced because these products have not lived up to their promise. That's because these products are not pure. In most cases, Argan oil usually plays a minor or secondary role in these products.
"In almost every case, we have to explain that we are not just another me-too product, and that our Argan oils are so much higher in quality.
"This is important," she adds, "because pure Argan oil offers benefits the others do not."
Argan oil is the main ingredient in all of Argan Lounge's products – with a minimum 85% Argan oil combined with other natural active ingredients, depending on the skin type and problem they're designed to address.
Argan Lounge's showroom – designed by a studio in northern Italy, called Dsegno, in the same town where Karim was born – has the look and feel of a beachfront lounging area that evokes the look and feel of being on a care-free holiday.
It underpins the company's basic philosophy of creating simple, yet high-performing products that deliver what they promise in a relaxing atmosphere.
"Argan Lounge was born by chance, coming out of a brainstorming session," says Karim. "We wanted to make a difference – to create a product with ingredients so powerful that it would enter the skin layers and get where the magic really happens, rather than offer just another product that stayed on the surface of the skin.
"Market research showed we needed a product that was unique, high performing and results effective, cruelty free, met peoples' concerns about the environment and lived up to its promises.
"That led us to Argan oil."
Argan trees grow only in Morocco's southwestern region and are protected by UNESCO's agricultural rules. The Argan fruit is harvested and sorted by hand as part of the quality control process.
Argan Lounge also believes strongly in sourcing its ingredients from Fair Trade suppliers, and in Morocco, where it works closely with the United Corporate of Female Argan Producers (UCFA).
"These women are able to earn an income for their families – at a fair wage – while the corporate that employs them contributes to the economic growth and social development of the area."
The women have kept the ancient techniques of extracting the oil as well as the secrets of medicinal recipes for centuries. To extract the Argan almond from its nut, these women use a pebble stone to knock off the dried pulp and the shells off the Argan nut.
Interestingly, it was used for centuries by Moroccan women for various family needs but was not produced on a large scale until recent years when its cosmetic qualities were recognized.
"You can see it on their hands. These women have spent their lives in the desert and the faces of 46-year-olds, for example, are lined and wrinkled from the intense desert heat and winds while their hands, which are bathed in the oils during the production process are those of a 20-year-old."
Learn more at www.arganlounge.com