If it's your passion,  sign your name on it. 
I have wanted to share this story with all of you for awhile now. It's about an amazing woman that I've nicknamed the craftswoman angel. Wearing wings of honesty, integrity and passion for what she does for others.
Madeleine Fournier also known as "Mado" and I connected many moons ago when my flourishing business required an update in some spa equipment. Not sure where to turn, I had asked a friend in the spa industry for suggestions of accredited distributors in the area that I could trust and would carry quality merchandise. At the time on line shopping wasn't an option.
Boutique Mado
Arriving provided me with a genuine kindness. I was enveloped by the vibrant energy of Mado's passion for providing homemade spa equipment and products. Being in her presence can be described as magical comfort. Her knowledge and skills sets the stage for a wonderful and economical shopping experience.
I had to ask her… how her business evolved.
Mado (a small yet strong framed woman) began to tell me how she physically built her very own log home in 1989, and after the completion of the house had decided to advance her tactile skills by taking a massage course with renowned Quebecois massage therapy instructor Helene Noel. It was here Mado was asked the life altering question by her colleagues; "If you can build a house with those hands, why can't you build us quality massage tables?". Like any artist in her field, she accepted the challenge and acquired the materials necessary to produce durable treatment tables and sold her 1st one for $250.00. In the 90's massage tables weren't easy to come by and were usually shi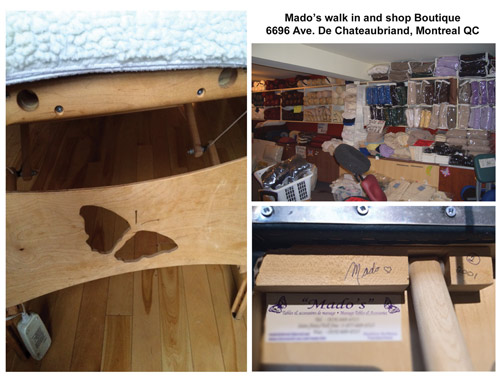 pped via the United States with a start up price $1,000.00 and up.
But not unlike any new business venture it went through some partnership challenges that had to be dissolved, but this provided the spark she needed to create her signature treatment tables in 1997.
These were her famous butterfly panel massage tables. Each table was handmade and signed by Mado herself.
If it's your passion…
I'm still using my Mado signed table 15 years later that I purchased in 2001! And I truly believe "If it's your passion, sign your name on it!" To this day her dedication goes beyond massage tables to a full inventory of massage and spa products. She intuitively created her Mado line of bolsters, sheets, heatable cushions and slippers of all sizes.
She loves to talk about her newest baby "The Maka Table" saying is the lightest and strongest by far. Beyond the boutique, her advisory and consulting skills will give any spa or salon a direct purchasing opportunity to obtain quality products with a guarantee from the angel herself! Her motto is "If I don't have it, I will do my best to get it for you!"
For your Boutique Mado experience contact "Mado" Madeleine Fournier or her son Michel DesMarais via their website.
On a closing note, remember to hold your integrity like a new born child, your devotion with strength, and your pride like a signature on a piece of art!
Be well, be happy,
Namaste
ASHe
Proofed by: Andrea Blake