The morning sun streams through your kitchen window, the Sound of Music drifts from the speakers and you feel inspired by the lyrics; "Climb every mountain, forge every stream, follow every…." As the eggs crack, and lard is cut into the flour you hear Julie Andrew singing;
"I have confidence in sunshine! I have confidence in rain! I have confidence in confidence again…."  And just as her voice drops on that last word, you look down into the bowl and realize your pastry is ruined.   Eggs, water, vinegar, lard and flour now completely cover your once perfect dry fingers. The music of Rogers and Hammerstein drifts away into obscurity. The only sound you can hear is your own voice crying out,
….. Ohhhhh Mother!

 

Why Can't I learn how to make your pastry !!!!

Have you ever found yourself in a position where you have been entrusted to teach a subject that is both complex and tactile? If the answer to this question is yes how did you achieve a positive result?  Try teaching someone how to make pastry.  I should clarify; try teaching someone how to make my mother's perfect pastry!
Imagine if you, in fact, were given the task to teach a subject.  In this hypothesis you are well qualified to instruct and teach this particular subject, and you also possess the educational credentials and experience to do this job.  You know this subject in and out, backwards and forwards. You know how to engage your audience and as an instructor you adhere to the "principles of education and to a code of conduct". These standards are in place so that you are able to lead by example. Your integrity is secure because  the references you rely upon in order to communicate an idea are documented by scientific and historical evidence. I am certain you would agree with the following statement; the more you are truly open to learning, and embrace openness, then you realize the responsibility and the joy that comes with being a teacher.
For years my mother has tried to teach me the art of pastry making!!  She has attempted this on the phone and in person in her kitchen, but I always seem to miss the magic that lays hidden in the preparation of her pie crust. What if Mother was in my kitchen for pastry lessons? What if I could tune into my Mother's own "pastry channel"? This would allow me to "re-wind" those quick moves of hers & re-visit the steps in her own culinary process.
If it were possible to access a "virtual" experience with mother in my kitchen, I am certain my pie crust would and could taste as good and light as hers (well almost!)
So, from pastry to a profession what is the correlation between the two?
I began to process the puzzle even though I had every piece and knew where every piece must go. I did not have all the skills to design a vehicle to carry a fairly complicated subject using a new teaching system. A system I felt must make it really easy to reach me.  I am like any teacher that loves their job, if I could not have human connection then at least I had to be accessible and be seen. The first step was to follow the wise message found in the following quotation:
"You cannot do this alone and you must seek the helpers just as they have sought you".
 

(P.M.Bell)

I found a helper, Mr. Chris Dero. He is a Film maker, Director and Producer.  Chris combines the art of film and education to create effective instructional videos. 

Reflexology Anatomy ™ officially went live on-line November 6th, 2015. RA is the first course of its kind to utilize this new enterprise in the spa industry. Chris built a unique home for Reflexology Anatomy ™ and gave me a new classroom in the sky.  One might say that in implementing this new system I observed my work transforming from paper to the powerful world of technology.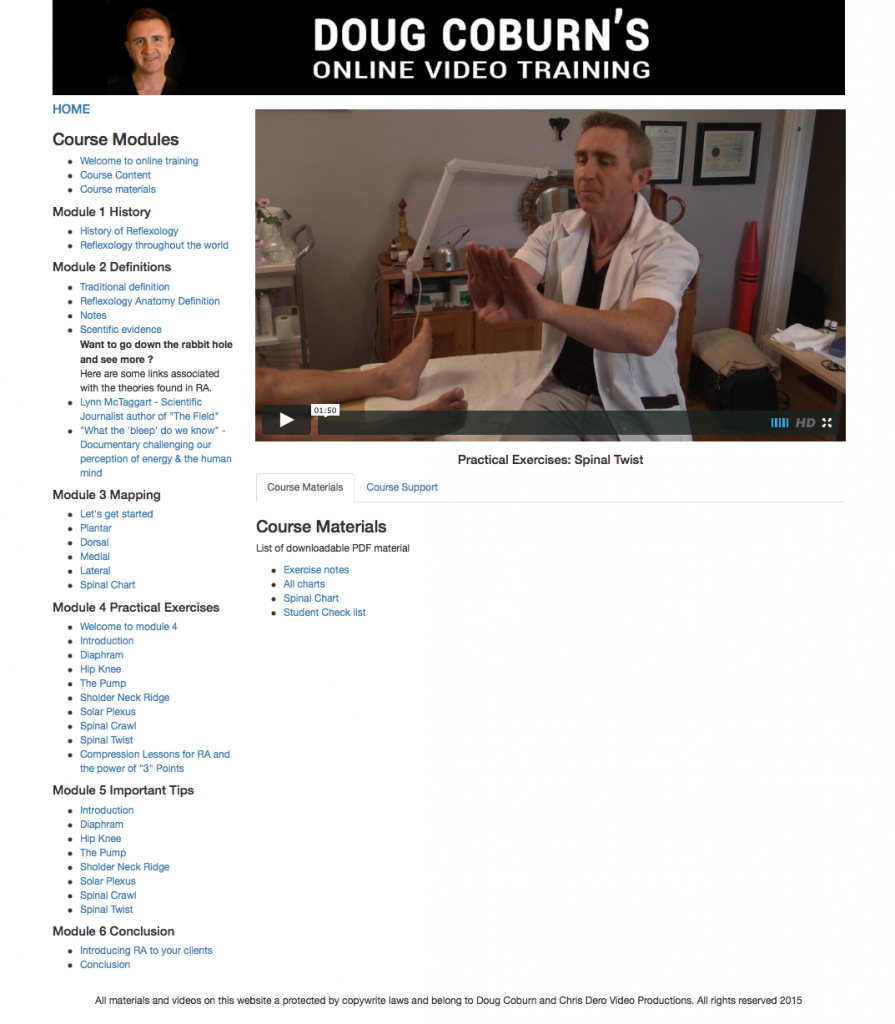 Now let me answer the first question I asked you earlier, the original question was: Have you ever found yourself in a position where you have been entrusted to teach a subject that is both complex and tactile? If the answer to this question is YES then how did you achieve a positive result?
Yes, I can teach a subject that is both complex and tactile and I know that I can achieve this, confidently and effectively, if I utilize the best of technology for the process. What a reward and joy it is to say out loud;
 

"You can learn, and I can learn about Reflexology Anatomy ™ and make pie crust at the same time!"

"Look Mom!!"

Written by: Douglas Alexander Coburn

Edited by: Phyllis Mary Bell –

Educator, Retired but Active in

every way!

Editorial Contributions by:

Chris Dero, Educational Film Maker, Director and Producer

& Thanks to Randolph Divers –

He lends us great assistance both on and off Camera and from his Campus at Concordia University!

SPECIAL THANKS to Kelsey Cooper of Victoria Canada, for leading the design layout and artwork found in Spa Canada under the watchful eye of Peter Cole , Editor in Chief, for Spa Canada. Thank you  Peter for your trust and faith in all of us!

For Course Information please go to: