YOU CAN STILL feel his presence at Continental Cosmetics, even though George Schilke has been dead for seven years
His biggest love was his company and he loved it more than life itself. "He was here with his cancer, months away from dying. The place he wanted to be, after coming back from chemo, was in his office, sitting here in his favourite chair and being in the midst of everything," said Richard Schilke, George's son, who became president when his father died.
The company was in his mind 24/7, conjuring up new ways of doing things to make Continental a major force in Canada's esthetics industry.
Today, Continental is one of the top five companies serving the industry in Canada, and the story behind its success is as much about George Schilke as it is about the company he founded.
It wasn't always this way. When he moved to Toronto in May of the 1970s, his company consisted of three people – himself, a secretary and a part-time salesperson/trainer. No matter what the problem, it didn't matter to George, who always found a way to make it work.
He focused on selling, and in the evening, he and his sales/trainer assistant, Lise Corriveau, who later would become Continental's general manager, would go to the third floor, where they kept their products, and packed orders for the following day's delivery.
At the beginning, it was very slow – not enough business and not enough money. He tried different products, discovering Ellen Beatrix on a trip to Germany.
"It was his ticket and he knew it, and focused it on the esthetics market," said Richard, who likes to be called, Rick. "A few years later, he talked the manufacturer into producing professional sizes of Ellen Beatrix's creams and cleansers."
"It didn't matter whether it worked or didn't work," recalls his sister, Brigitte Schmidt. "He just had it in him. He had no fear that any of his ventures might fail. And even if it didn't work out, he knew how to pick himself up, dust himself off and continue on…for George, there was always another way to approach things. He always seemed to manage.
"He always had a drive, and proved, over and over again, he could accomplish what he set out to do with what he was given…and to never count him out."
Brigitte believes he got his work ethic from his father, a German soldier during the Second World War, who had been captured and held in a Russian concentration camp for 10 years before finding his way back to Germany. That was in 1955. George was 15 at the time, and he and his father emigrated to Canada for a chance at a better life. Brigitte and her mother followed two years later. Her father had a house to live in when they arrived, and a lot next door where he could build their future home.
George quit school a year after coming to Canada. He was placed in Grade 5 because of his language difficulties and didn't fit in. He was much older than his classmates and felt out of place. Having a first name like Adolf didn't help, and one of the reasons why he chose, even then, to be known by his middle name, George.
This didn't sit well with his father, who issued an ultimatum – "go back to school or get a job and pay me $1 a day". He chose work and started delivering telegrams on his bicycle and selling the Edmonton Journal.
It was selling newspapers that George showed early signs of business acumen. He began wondering if there were a better way to sell them, after discovering two different locations that were great for selling the paper, says Rick.
"His father was a carpenter, and he asked him to build a box that would hold the newspapers so that they wouldn't get wet, with a small can attached to it where people could deposit their nickels for the paper, said Rick.
"It was the first newspaper box in Canada."
All of a sudden he was selling double the number of newspapers and was starting to make more money than his father, who worked hard every day in construction.
We are sitting upstairs above Continental's showroom building in Concord, located on the outskirts of Toronto. Rick is sitting in his father's chair.
"That's when my father realized he didn't need to swing a hammer or carry lumber all day. He would do things like selling newspapers."
Then, almost by chance, he got a job delivering products on his bicycle to hairdressers for Edmonton Beauty and Barber Supply. "It was his big break," adds Brigitte. The lady who ran the company loved his personality…doting on George and doing things for him."
He graduated to the warehouse and from there to the company's showroom and into sales and soon becoming one of Edmonton Beauty's top salesmen.
After a while, he began looking at other ways to increase his income and decided to go out on his own, making shampoos in bulk and bottling and selling them to estheticians and hairdressers.
That didn't satisfy him. He needed something bigger and decided to set up operations in Vancouver before moving to Montréal, then the esthetics capital in Canada. That didn't work out because of the language barrier. That's when he decided to establish himself in Toronto, seeing it Toronto as the centre of Canada – the place to do business if you wanted to become a national company.
"The biggest thing about George was that he had the guts to do it," said Brigitte. "If someone told him something he was planning to do would never work, it only made him strive even harder…I think he also wanted to show his father and mother what he could do."
There were plenty of people who were telling him that. "At that time," said Rick,"it was essentially a hair industry and everyone told him he wasn't going to do anything in cosmetics…that there just wasn't enough business…that if he didn't sell hair products, he'd never survive."
Continental started with Rosagraf, a German line, as were most of the products Continental sold at the time. All that changed when the company picked up Ellen Beatrix, and Continental's business took off and grew. Continental then introduced Gehwol, Thalgo, and Skyndor to the North American Market, and remains the master distributor of all 3 major brands throughout Canada.
Rick was 17 when he started working at Continental. It was supposed to be a summer job, working with two others in the warehouse. When summer ended, he stayed on. He can still remember how he and his brother worked at the Bridgeland office on weekends, carrying products from the ground floor to the third floor.
"My dad was harder on family members than other staff. He believed you should know everything in the business. So was the pay — $3.65 an hour, minimum wage at the time.
"He was very stubborn. He wanted it his way. And his way only. If anyone didn't want to go along with how he did business, he wasn't interested in doing business with them. In most cases he was right…my dad, to me, will always be the best businessman there ever was."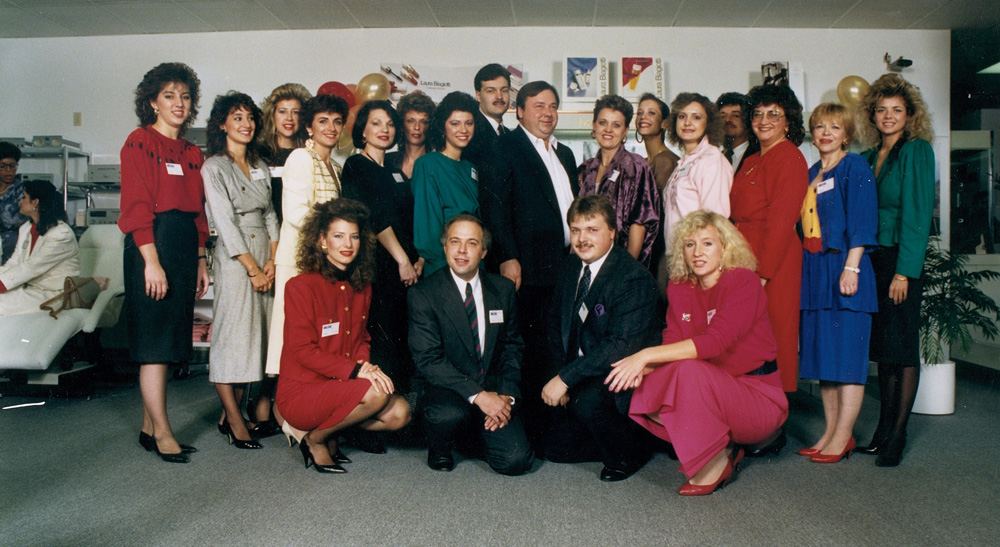 Approximately one year after launching Gehwol, which remains Continentals top selling brand, Continental acquired Thalgo to offset the loss of Ellen Beatrix, which was essentially a retail line.
Part of Continental's success was due to the work of Lise Corriveau, who later became general manager, playing a pivotal role in the company's success in those years.
"She was extremely hard working, intelligent, and provided all the education for clients using Thalgo," said Rick.
One of the big challenges was moving into foot care ahead of the curve. Foot care wasn't part of esthetics at the time, and getting estheticians interested in it took a massive educational effort.
Continental has been able to do very well, even with product lines that had no English packaging. European companies were simply not interested in changing their packaging for an unknown market, adds Rick. In fact, a lot of the lines the company represented at that time were a first for them in English markets and a first for them in North America.
It's different today but in those days, Continental found the only way it was going to get a product in the door was to get people to try and use it. If a spa were using a different product, they would go in and buy all the spa or salon's stock and replace it with its products. Continental would then take the old stock and sell it off at a cash-and-carry discount. For his father, it was a good way to introduce a new line and to get salons to commit.
"If you just changed two or three items, as a lot of people did in those days, you'd never get anywhere. It's harder to do that today, says Rick. For one thing, there aren't as many mom and pop salons now.
"There are a lot of companies in the industry today that are only here for five years or so which promise everything and deliver nothing. My father wasn't like that. He sold a product for an honest dollar – and backed it. If anyone had a problem, we took care of it. At the spa shows, he talked to everyone. It didn't matter whether they were upset  over something. He treated everyone the same way.
"I think it's one of the reasons why we're still standing and in the position we're in, and one of the largest distributors in the Canadian market."
Rick believes it's due to the principles his father laid down for Continental – honesty, doing the right things for the right reasons, treating everyone the same.
"It was his long-term vision for Continental and how he wanted the Schilke name to be remembered."
Rick has been in the company for 30 plus years and hopes other members of his family will take an active role in operating the company for years to come.
The future? Rick believes the industry will become more corporate as mom and pop spas/salons disappear from the landscape. He sees esthetic spas becoming more involved with health and nutrition than now, and that's where the products will tend to go as well.
"There are a lot of good moisture creams out there…but today, it's more about packaging and imagery and lifestyle than the actual ingredients in the product."
George was not always easy to work for. If you upset him, you know it and generally suffered the consequences, added Rick. But a day or two later, he would treat you as sweet as honey.
"My dad was strict – but fair – in his dealings with people. To him, everyone was the same."
When he was in a good mood and everything was going well, he'd talk about how he wanted Rick or his sister Laurey to lead the company. But any time you made a decision he didn't like, he would definitely let you know – and everyone else – who was in charge.
"There would also be times when he'd tell you to take care of something, and when you did, he'd come in and completely change what you did, and make you look a little stupid in front of everyone.
"He would also change his mind about something, and not bother telling you he had, without giving you a reason why. All he would say I didn't tell you to do that."
Rick believes a lot of it had to deal with his childhood, according to stories his grandmother told him. In the late days of the war, there were a lot of times the family didn't have food, and his father and his friends would steal gas from U.S. jeeps and sell it to get food.
"I had an uncle who lost his arm taking apart unexploded bombs to get the copper from them. My father's two elder brothers died – one from malnutrition and the other from disease.
"His dad was tough on him – so he probably thought that if you were tough on your kids, they'd do better."
For companies like Continental, we'll probably expand into different markets than we traditionally service – health and nutrition, basically the wellness side of spa programs.
His mind drifted back into the past to his father. "Hard as he was to me, he was, to me, the greatest man on earth by far. I have more respect for him than anyone else. Even when he did things wrong, he was doing them for the right reasons.
"I think we would be far better off if he were still with us. Some days, I feel lost without him."
Sitting back in his father's favourite chair, he suddenly paused.
"I miss him every day."
Richard Schilke
President, Continental Cosmetics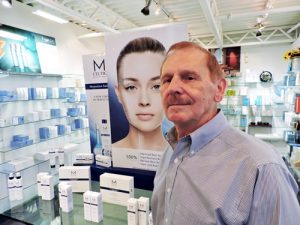 Continental's GM and mentor
Conrad Tokarz, Continental Cosmetics' statesman-like general manager, believes the spa industry is facing a new world today, with different, tougher challenges.
"Especially, competition. There are so many brands out there today looking for a place in the sun that competition is already tough. It's going to get a lot tougher," said Conrad, who exudes old world charm in all his dealings.
"Continental has also been changing to meet these challenges by offering spas and salons prestigious skin care brands, knowledgeable, professional sales people and trainers. Our clients know they can come to us and get the kind of help that will help to make them successful."
We are sitting in Continental's recently expanded showroom, taking in the sun from its wide windows and the greenery and trees beyond the parking area.
"Only the strong leaders in our industry are going to survive," he adds. "We're a national company, with primary offices in Toronto and Montréal, and staff in major cities across Canada, who offer sales, training and consulting services.
Continental, he says, is also fortunate with being able to offer brands like Gehwol, Thalgo, and Skeyndor, which are constantly developing their ingredients to make them more effective.
The company's primary philosophy is to be a leader in helping salon/spa professionals get whatever they need, whether products, or consulting services or education.
Conrad came to Continental 29 years ago from the fragrance industry. When the company he was working for folded, he applied to Continental, which requested his résumé. He got a call from George shortly afterwards, asking him to come in for an interview.
"We sat in his office downstairs, off the showroom, and chatted. He told me he was looking for someone with my experience and invited me to join Continental on the spot.
"When would you like me to start?" I asked.
"You're here. Start right now. Take off your jacket and I'll introduce you to the staff."
A couple years later, Revelon bought out Hugo Boss, which Continental represented at the time. Conrad felt with the loss of Hugo Boss, and the fact that he knew very little about the esthetics industry, he would soon lose his job, and accepted an offer from Revelon.
"I was with Revelon less than six months when George called and asked if I'd like to come back, that he had an idea. It was to handle Ellen Beatrix."
Lise Corriveau, who later became Continental's general manager and VP, helped to orientate him to the world of esthetics. Conrad not only learned but later became   Continental's general manager. In fact, he is now regarded as a major source of information on esthetics and the spa world.
Like George Schilke, he loves what he does.
"I can't wait to come in every day."
Conrad Tokarz
General Manager, Continental Cosmetics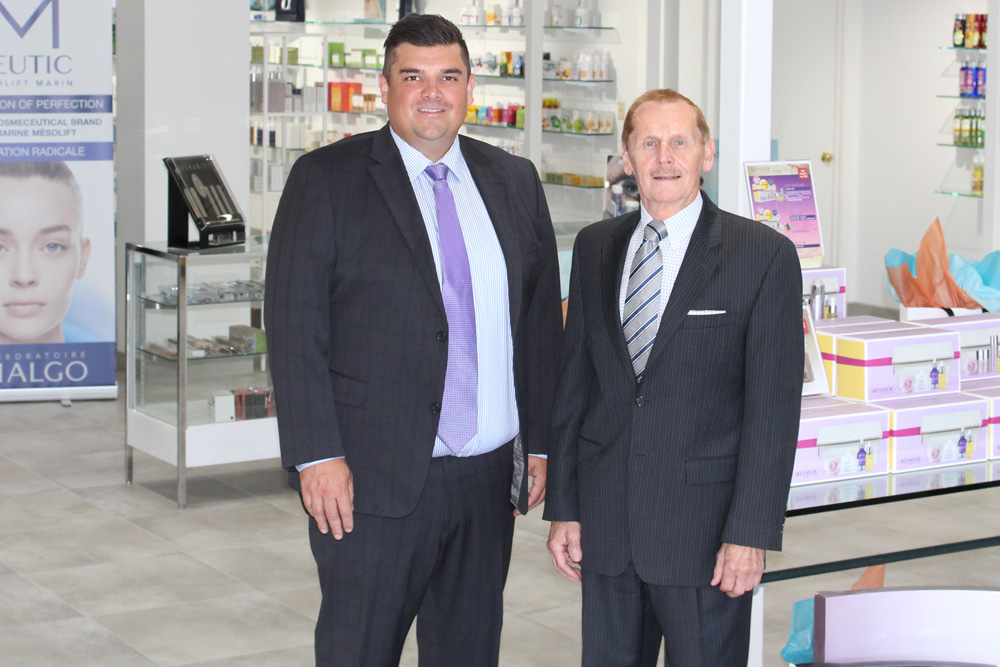 Next generation: 'fulfilling a dream'
My earliest memories were running around the showroom," says Jake Vella, George Schilke's grandson and Continental's vice-president.
"That's when I got to meet Conrad. I was six at the time. He was the one thing at Continental that never changed. He was always there when I was growing up, through my teen years, university, and even afterwards, before I joined the company."
Along the way, Jake spent a couple years working at Continental's warehouse, which taught him a lot about hard work. It was a lesson he never forgot.
"When I was 14, my grandfather decided to establish an operation in Edmonton, and called to tell me I was going to Edmonton with my uncle, Rick, and his family."
For Jake, it meant moving into Edmonton Beauty & Barber, where his grandfather had worked as a young man. It was part of his grandfather's strategy to go back to Edmonton Beauty & Barber, buy the building, and sell Continental's products from there.
"And that's exactly what we did. In three and a half weeks I was there, I was working long days, every day, getting the warehouse ready."
Jake didn't realize it at the time but his grandfather told his friends what a great job Jake had done, and when he returned to go back to school, his grandfather gave him a bonus.
"All of us in our family wanted only to please him. That was often difficult to do. For my grandfather, it was all about business. If you were successful in business…created something and worked hard at it…that would impress him."
His grandfather's praise had a profound influence on him and helped Jake to make decisions in other areas of his life. It also led him to decide that he wanted to work at Continental. "It became my dream."
He always took great pride in what his grandfather had created. As a boy, Jake recalls going to a friend's home and seeing Gehwol – Continental's biggest brand and the biggest foot care line in Canada.
To see it in someone else's home made him feel proud. "I remember thinking and wondering how my grandfather had the vision to create such a familiar name. He did it without any tools. It became my goal to make myself as prepared as possible so that I could eventually work here. It created a thirst in me for success."
Jake's first job was with a pool company, where he did just about everything – from cleaning toilets to building pools and even selling them. He left to spend three years in the auto industry, "where I was given the opportunity to make mistakes and learn how to avoid them. It also gave me what I needed to know to eventually come here".
In 2008, the year before his grandfather died, he called Jake about an opportunity at Continental and that Jake would be the right person to handle it.
"When my grandfather discovered he had cancer, I suddenly found myself having to do senior management jobs, with Conrad as my mentor. We didn't do things the way my grandfather did – but his values and how he did business were passed down to us."
The company has diversified in what it offers the spa industry, including training to help spas maximize the benefits of Continental's products.
"As we expand our training devision, we'll be opening an education centre – and will be teaching students who are interested in a career in the industry."
Continental's emphasis on service will continue to be the company's hallmark. "It's what we stand for."
That includes the companies it represents. "They're all family-run businesses, just the way we are. Their core values are exactly the same as they were at the beginning. So are ours."
The team at Continental Cosmetics will be host to a reunion, and customer appreciation day on Monday, Nov. 21, and invites all past, present and future clients and staff to celebrate 40 incredible years.
Jake Villa
Vice-President, Continental Cosmetics
Learn more at continentalcosmetics.com