Spa Displays are the heart and soul of visual merchandising; their role is to present the merchandise to the shopper.  Just as someone introduced at a party with a flattering comment is much more interesting than the boring standard, "This is Bob" introduction, so too are products presented in unique and flattering manners. Similar to a party introduction where we always hear the merits or the name of the person we are being introduced to and then begin to analyze the individual according his introduction, the first thing the customer sees in a store is the display of products; the products themselves are actually seen second.  Displays set sections of merchandise apart from the rest of the store's products by arranging a selection of products in a grouping that is set off from the rest of the store with its arrangement, lighting, props and shelf talker cards.  These introductions have an enormous impact on the products themselves and on the shopper faced with many other product choices.  The ways that displays impact consumers can be broken down into ten easy categories.
Promote the product

Advertise the business

Create further sales

Construct ambience

Educate the consumer

Encourage brand recognition

Encourage demonstration

Familiarize client with the business

Support trends

Define store image
First off, spa displays work to highlight and sell specific products by attracting attention to the merchandise and permitting the shopper to interact with the goods in the framework of the display.  If done correctly, this shows off the products in a flattering light.  Nobody beelines right for the darkest nooks and corners of a store, they let themselves be guided by their senses which will lead them to the brightest and most attractive areas of a spa store.
The displays are internal advertisements that create an image unique to the spa through the use of displays and props. Certain displays, such as those advertising a buy two, get one free concept can incite further impulse sales.  And a product that is purchased and well appreciated will generate return clientele and generate sales for the spa.
Displays convey a tone and help create an atmosphere depending on their arrangement and presentation within the spa boutique.  Bold displays with bright colors create one mood and subtle, minimalist displays create quite another.  Poorly organized displays convey nothing but a confusing message that is trying on the eye of the customer: A messy bin display of $1.00 lipsticks sends one message, while a precise stair-stepped display of $20.00 lipsticks is a world apart.
Displays serve to educate the consumer about the products for sale, providing ingredient composition and product instructions, price, availability, color, results and other additional information on cards or on the products themselves.  Interactive displays encourage the consumer to educate him or herself on the product by trying it out.  Any presentation is bound to convey more information about the product by setting it apart from the rest of the items in the store that are weakly or singularly displayed.
Presentations encourage brand recognition by using memorable displays that highlight a single brand and a range of its products.  A brand's reputation can also be transmitted to a store that carries the brand products.  For example, Creed is a prestigious brand of perfume; by association any spa that carries Creed is likely to be seen as esteemed and luxury-oriented as well as a bit off beat because Creed is not a typical spa line.  By contrast, a spa carrying only Aveda products sets itself aside as a concept store. The consumer has by now come to expect a certain type of product from Aveda both within the retail area and when used in the spa.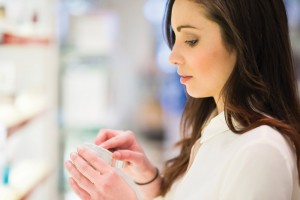 The arrangement of presentation promotes product sampling by offering a range of 'testers,' and can also be designed for live product demonstration by a sales associate.  Interactive displays encourage consumers to try on the product and judge for themselves its efficiency.  Whenever a client can touch, feel, smell or wear a product, the potential for making a sale is greatly increased. 
Displays also serve to confirm that a spa is aware of and even leading recent trends.  They can do this, for example, by promoting new treatments such as an innovative body contouring technique and up-to-the-minute products and fashionable beauty lines that are featured in the season's national beauty and fashion magazines.
Finally, a well-presented display harmonizes the store setting with a comprehensive esthetic tone.  In such a case, shopping in the store becomes a pleasurable experience, not an erratic task or tiresome chore.  Who wouldn't like to linger among scented candles, soft music and inviting spritzers? The spa display is echoing the services of the entire establishment and is a powerful tool to advertise the treatment aspects of the spa.  Displays are so influential and important that some people deliberately go to stores, not to shop but to see the displays.  Such is the case with Marshall Fields in Chicago, which every Christmas installs a several-stories-tall decorated tree in the middle of its department store.
Because the spa focuses on its services and facilities, the promotion of its retail products is often a secondary consideration.  Displays can work to reshape spa promotion with a subtle but increased emphasis on retail goods.  Physical products and displays can also be used to remind consumers of the more intangible services offered within the spa.
Elements Within the Display
There are many different ways to set up displays and to present merchandise, but the end goal of the display is to create sales.  Keeping this in mind, there are some basic rules for outstanding display presentation.
Every display requires a theme.  The theme is the framework and the underlying idea that coordinates the visual presentation of merchandise.  This is often the occasion for the display.  Again, at any party, there is generally a theme, which reinforces the purpose or occasion for the party.  The home is decorated to match the theme and add to the atmosphere of the party; the same can be said for a theme in a spa.  Theme options are literally unlimited.  Ideas can relate to a season, such as a January sale, a New Year's Eve makeup display or a mid-summer sunscreen promotion.  Themes can be arranged by the holiday, season, featured spa treatment or scent, such as lavender.  An additional theme that is particularly useful for spa retail display might be event-connected. Examples of this would include weddings (a pampering package for the bride and her bridesmaids) or the Academy Awards (pedicure or facial kits to use while watching the show).  Themes can be regional, according to the location of the spa.  For example, a spa in New Mexico might use a Southwest motif as its general theme and use blue corn, adobe clay and aloe  as thematic ingredients in service protocols.
Whatever the theme chosen, it must unite the merchandise in color, use and concept.  The image of the theme needs to correspond to the image of the overall store and spa.  A Halloween display with ugly goblins and frightening witches as props would be inappropriate in spa and might inhibit any relaxation or beauty transformations that the consumer seeks.  Keep in mind that one unifying concept should stand out within any display.  The display is intended to be a quick, efficient means of informing a consumer about a product; conflicting ideas and clutter impede this effort.
In product presentation, design composition helps to make a display aesthetically pleasing and interesting.  Eye-catching displays employ several elements to create an exhibit that is effective in transmitting information about the product and also attractive, enticing the consumer to approach a display and examine and try the products firsthand.
Balance
The first key element of a great display design is balance, which requires maintaining an appearance of equilibrium within a promotional space.  Slightly off kilter or unbalanced arrangements are difficult to look at because the eye automatically seeks to find equilibrium. When the eye isn't able to conceive of any balance within the display, the automatic result is for the client to look away and search for balance elsewhere.
A display can be set up using traditional formal balance with objects placed weight for weight and size for size on both the left and right side of an imaginary line drawn down the middle of the display area.  Informal balance is another display option that achieves visual equilibrium by placing a variety of different colored, shaped and weighted objects throughout the display.  Initially, such an arrangement may appear random, but subtle balance is created with creativity and energy.  A spa display might have two different lotion lines with the same sized bottles each lined up on one half of a display table, or an array of different sized, colored and shaped bottles could be arranged in an order that keeps things balanced but not boring or regimented.
A point of emphasis that leads the consumer's eye to the display is also a useful tool for presentation.  Emphasis can be created through using a visually bright or stunning color amid neutral shades similar to how visually stunning a red kite in the sky on an overcast, grey day can be.  The point of emphasis is much like the kite; it attracts the consumer's attention and draws him or her to the display to examine products.  A good way to create a point of emphasis is to put a spotlight on a single bottle in the forefront of a display of several bottles.  This makes the highlighted bottle stand out and beckon the consumer to come have a closer look at all the merchandise in the display.
Harmony
Harmonizing an accord between all elements of the display is vital, particularly in the spa setting, for creating attractive but uncomplicated visuals. The spa shop should not disrupt the serene mood of the relaxed client with unnerving displays.  Four key elements:  line, shape, size and texture come in handy in creating displays that are pleasing to the client's eye and soothing to their mood.
Lines direct the eye, increase or decrease width and/or height and can even express strength or rigidity in a display.  Vertical lines can create a masculine image through their stability; likewise, curved lines connote soft, flowing movements often associated with femininity.  Seeing as the majority of spa clients are women, softer, curved lines within displays are effective in inciting the feminine eye.   Diagonal lines communicate activity and movement.  While for simplicity's sake it may not always be advisable to mix too many line types, different lines can complement one another.  A series of vertical lines by themselves will give off a strong, sturdy feeling, which countered by curved lines in the same display might weaken the strength of the vertical lines.  Displaying tall, straight, angular bottles with curved and rounded jars, for example, dilutes the weakness of the curves and the strength of the vertical lines created by the products.
Shapes that are unifying are helpful in creating a feeling of accord among the elements of a display.  Dissimilar shapes, however, can be used to help produce a point of emphasis and to highlight a particular product.  Different sized objects work well together and can effectively create principles of harmony, provided they are arranged in a manner that is not disproportionate; large items should not overshadow smaller ones and vice versa.  Generally, however, employing products of the same size is an easy way to create a balanced display.
Texture
Texture, another element in creating visual harmony, relies on the sense of touch to be noticed.  Highly textured objects invite touch, as do intensely smooth products. The appearance of texture in an object, however, can be manipulated according to the lighting and the surroundings it is placed in.  Certain materials appear rough or smooth, while others create texture by either reflecting or absorbing light.  Within the display, like materials paired together give off a sense of harmony, as do objects of similar light absorption capabilities when used simultaneously.  However, careful mixing of two texture types can create contrast within the same display.  To highlight the exfoliating grains of oatmeal in a bar of soap, for example, an additional low light can be used to visually bring out the grain.  Likewise, a flood of light on a flat surface will reflect like a mirror creating a feel of shine and smoothness.
Proportion
Proportion is not only how the items are distributed within a display, but also the number of items displayed in a given area.  Ideally, merchandising displays should be neat, logically laid out and uncluttered. There are four common ways to utilize display space to avoid chaos without being too sparse: pyramids, steps, the S curve and repetition.  The first device is the classic Egyptian pyramid shape, stacking merchandise in an upward rising triangular shape.  The second arrangement is called the step.  It involves a uniform, repeating elevation in the display of merchandise to create a staircase like appearance.  This is less formal than a pyramid display and is a good way to show merchandise of different sizes.  Making an S curve throughout the display space with strategically placed merchandise is another method of proportional presentation.  The zigzag, as the S curve is also known, relies on a precise equidistance between objects to keep shape, which can be tedious to set up and adjust after client hands have perused the display but it is highly effective in leading the eye through the entire display.  Repeating the same shape series over and over is what is called repetitious proportioning.  This pattern technique is simple and easy to create but might not be engaging enough after a spa treatment.
Re-evaluate your merchandising practices and watch retail sales take off. Add a bit of character to your retail elements for successful home care sales.  Profit from retail is just begging to be realized.
Visit My Site to learn More!