You've all heard the expression; "When it rains… it pours." Well grab some buckets and harvest the dividends you will receive from the hottest trending group called "MILLENNIALS". These somewhat cocky and very confident men aged between 20-35 are changing the way we sell product, use booking systems and the spa experience itself. M-Men, as I call them, are somewhat narcissistic males that have bumped up the game on selfie moments with their social media circles. But take faith knowing that these M-Men will become our most effective allies and selling tools. Their posts, blogs, and web searches will create the marketing funnels needed to lead them to your business door. If your preparedness for this breed has been somewhat apathetic up until now then take heed.
Soon, the millennial male will be dropping major coin into our laps that will surpass previous records of selling product and spa services for men. International spa economists are predicting record breaking sales to exceed billions of dollars in North American alone by 2017.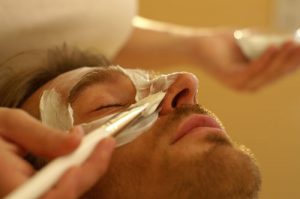 Not only do millennials like investing their hard earned dollars towards grooming and spa services but they take great pride on how they do it. Clever millennial minds like to get involved in each step of the process. Apps and interactive spa websites must entice the demanding millennial to play into their hand. If these sites do not stimulate them to shop, provide valuable information or be able to book services 24/7 the M-Men will forfeit the game, and move on… you lose.
Hybrid your spa areas to accommodate the spa trends that are required by these self-involved men. Point up your menu with maintenance services for in-between bookings. Trust me, I've shared an elevator ride with such a panicking millennial as he scrolled through dozens of web searches on his phone for local barbers that could provide a fade touch up…NOW!!
So if these M-Men desire a specific look, then provide it for them! Create packages including full body care such as manscaping, and other treatments such as: Threading, waxing, face or beard detailing, body hair trimming, colourization and scrubs. The options are endless.
Don't panic if you're feeling a bit overwhelmed trying to set up services for men. Professionals like myself can help you create options for your male clientele so they can book or shop online. So next time it's three in the morning and a millennial needs to book a service for the following day, make sure it is your spa he books his treatments with.
NEW! Check out "The Spa Coach" on my website. A online spa and lifestyle coaching service that is customized to fit your specific needs. Available at: NuMangroomed.com
Keep your joy and passion in all that you do, hugs…ASHe
Proofed by: Andrea Blake
For more from me checkout NuMangroomed.com