A BONNY TRIP TO ST. ANDREWS, FIFE, SCOTLAND.
This is a country of mountains, glens and of stories to tell.  Your home away from home landscape for Canadian visitors.
St. Andrews is one of those world-famous resorts to you would love to visit.  Where sleet and cold temperatures greeted me on my arrival, very unusual for April, this is a dream for many golfers to play a round, at the home of golf.
Travelling from London Kings Cross Station to Leuchars is a 5 and a half hour journey, what an experience.  On your journey you can see the striking Durham Cathedral, a city I have never visited, though, I am sure at some point I will.  Newcastle is the northern city, which is living the dream of new beginnings, from industrial to high-tech.  Then on to Scotland's jewel in the crown, Edinburgh, a city I have been to, and last but not least, across the Forth Rail Bridge, built by Sir John Fowler and Sir Benjamin Baker and was opened in 1890.  It was the longest cantilever bridge in the world until the Quebec Bridge opened.  It appears on £20.00 pound notes. Cantilever Railway Bridge is a UNESCO World Heritage Site and monument to the Industrial Revolution and Scottish engineering.
St. Andrews is a medieval town steeped in history with many Royal connections.  It is home to Scotland's finest and oldest university, with award-winning beaches and a coastline where you can walk for miles without crowds.  There is plenty to do, has a real feel of its own and a tourist attraction in many ways.
It also has a very great claim to fame in the movie world, north of St Andrews was where the beach scene, of Chariots of Fire was filmed, iconic shot of Eric Liddle training on the beach.
Links with America are many.  One very famous individual is James Wilson, whom moved to Charleston SC in 1743, he was one of the original signatures of The Declaration of Independence and was educated at St Andrews University.  He was one of the Founding Fathers and was an Associate Father of Justice of the Supreme Court of the USA.
THE HOME OF GOLF
Golf has been played on the Links at St. Andrews since around 1400 AD, and the Old Course is renowned throughout the world as the Home of Golf, which was a simple track hacked through the bushes and heather was developed into a six links golf courses and four other courses in the immediate area.  Golf became popular in the middle ages, so much so that the game was banned in 1457 by King James II of Scotland, who felt it was distracting young men from archery practice. James IV being a golfer started to promote the sport and allowed golf to have its rightful sporting place.
Golf really became popular at St Andrews in the middle of the nineteenth century and the course became well known. The golf club rules of every golf club originate from St Andrews, except in the USA.
Many championships have taken place at Fairmont St Andrews.  The golf course was voted in the top courses by Conde Nast, won the European Golf Resort of the year 2012, and resort hotel of the year with two superb golf courses, The Torrance named after the legend Sam Torrance, and The Kittocks, which was The Open qualifying venue in 2010. In 2001 the new international resort was opened, as a 520acre resort, which was open to ladies, gents and juniors.  Here is a new membership, which adds to the appeal of the resort, which I am sure will have many applying for.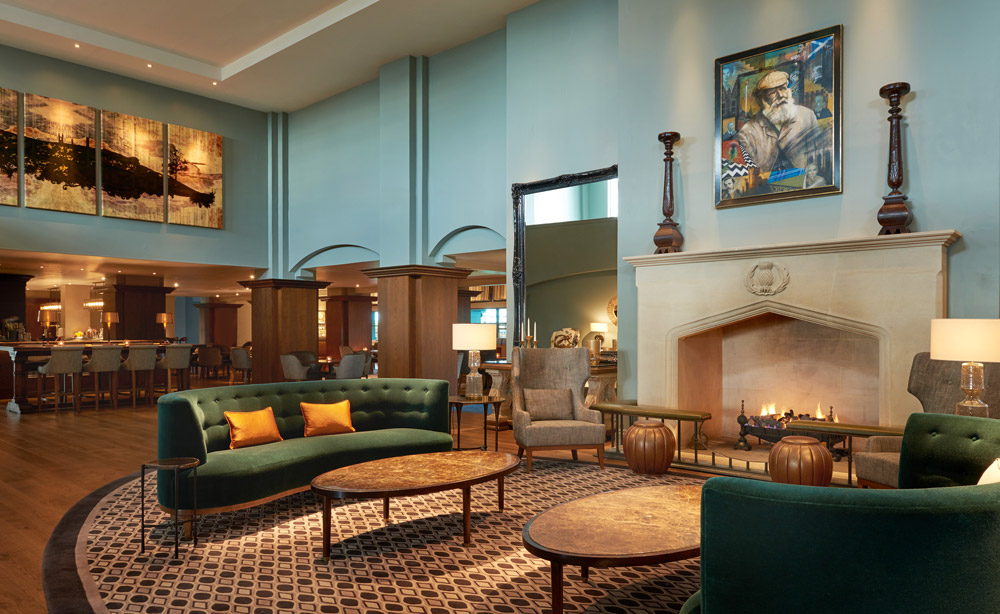 SINGER HITS THE RIGHT NOTES WITH HIS DESIGN
Within the Atrium area is a George Singer metal like sculpture with over 20,000 thousand pieces and which is over 60 metres long stretching right through the reception area, hanging from the ceiling, it most certainly is a focal point.  It is called Zephyr, changes with the light.  George Singer has designed chandeliers at many buildings including the corporate offices at Selfridges in London.  St. Andrews is very involved with the Architectural and Design Innovation for Scotland this year, with many events taking place around Scotland.  Not just Fairmont St Andrews, this is a Visit Scotland marketing initiative.
A KINGDOM OF FIFE FOR ANY VISITOR
It is truly the largest suite I have ever seen, it is a very remarkable area to stay. It most certainly took my breath away, truly remarkable in size.  The suite provides its guests with ample space.  From the living room with fireplace and usual up-to-date technology, the bedroom closes off with French doors and features a bed with two individual dressing rooms, a Jacuzzi bathroom with a separate power shower.  There is also a private balcony with views of the golf courses and the coastline.
Executive Suites are also spacious and elegantly decorated, offering open-concept rooms, perfect for couples or families preferring more living space or business travellers that would like to host interviews or small meetings whilst in St. Andrews.
In total there are 209 guest rooms and suites, 2 onsite Manor Homes, each featuring 4 en-suite bedrooms, fully fitted kitchen and living area in each Manor home.
The Deluxe Suites at Fairmont St. Andrews are spacious and elegantly decorated open-concept suites, they offer stunning views of the sea and golf.
There are also Junior and Studio Suites all a very good size. Deluxe Sea View Rooms, Fairmont View Rooms, Fairmont Rooms and Atrium Rooms, a big selection to choose from for your stay.
The suites are large by standards with panoramic views of the coastline and St. Andrews.  During my stay, I could see the ocean, which was truly magnificent to view in the morning.
Carpets and furniture throughout the resort reflect the Scottish tradition, new blue carpet was being laid while I was there, very impressive the work should be completed in July in the hotel with a new restaurant added to the existing ones.
MEET YOU IN THE BALLROOM
If it's a corporate event or a meeting that you are wishing to organize, and then there is no better place, I feel in Scotland for luxury and elegance. One of the largest purpose built conference venues in Scotland with over 15,000 Sq. ft. of diverse meeting spaces, including The Robert Burns Ballroom, what makes the Ballroom so versatile is it can be split into four areas, for breakout sessions. Robert Louis Stevenson is the second largest conference area, with French doors leading out to a large paved terrace.
The Atrium is an expansive architectural space that can host up to 1,000 delegates; notable event was the Harry Potter Gala Dinner.
There are a number of facilities available within the resort.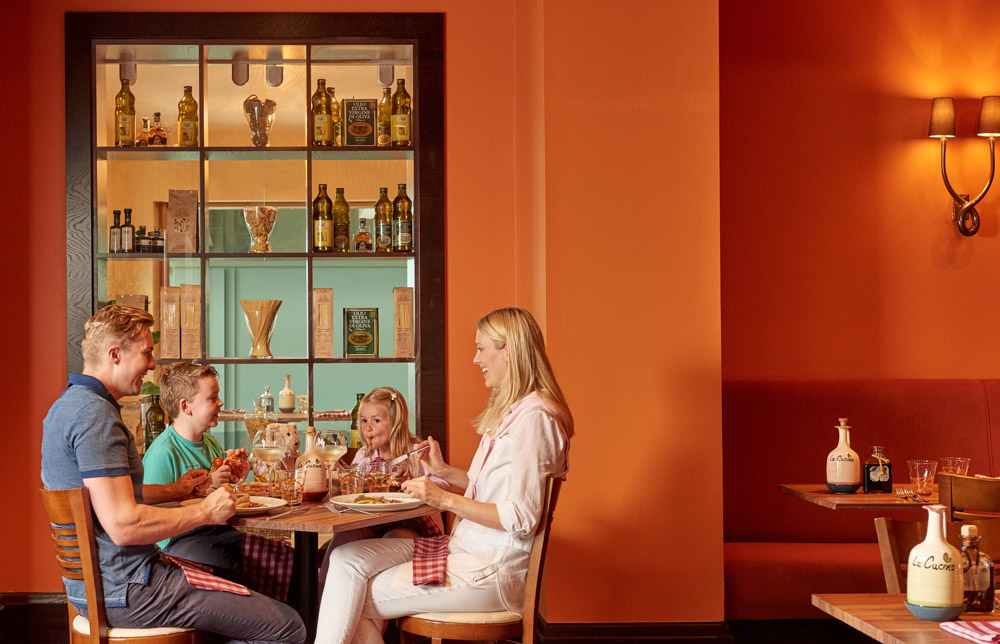 SIT DOWN AND ADMIRE THE VIEW
The St. Andrews Bar and Grill is set upon a spectacular cliff top with stunning panoramic views over both the championships golf course and St. Andrews Bay. Serving traditional golfers fayre by day and the finest Scottish steak and seafood by night.  St. Andrews sources locally, the menu is tailored made to show the best of the ingredients.  After your dinner I suggest you enjoy a wee dram and just relax enjoying the sea view.
La Cucina, I love Italian food and I was not disappointed in choosing to dine there, more informal setting, delivering great Italian cuisine, so whether you want a pizza or pastas, this is the place to go, a real Italian experience.
For a drink try the Kittocks Den, it is derived from the old Scottish tongue Kittock meaning a flighty lady, it is also the name of the historic site that runs through the estate in the form of a deep ravine, which is home to the hotels family deer, a perfect bar to relax in.
The Rock and Spindle is a stylish bar with a relaxed atmosphere offering a selection of bar snacks and nibbles to share whilst sports enthusiasts spectate some of the top sports in the world, just put your feet-up and ask yourself will my golf ever improve?
BREATH THE FRESH CLEAR AIR ON YOUR WALK
For the walkers paradise you can follow the coastal path to St. Andrews, there are plenty of other walking trails to experience after a hearty breakfast.  I went for a walk to the headland to view St. Andrews in the distance and the Cairngorms Mountains still with snow in April.  The resort follows Fairmont image of being an environmentally friendly company, vegetables are grown on site along with the herbs in the greenhouses within the grounds.  St Andrews is a family orientated resort with a number of activities during the summer holiday months including painting and learning about Fife, for little ones.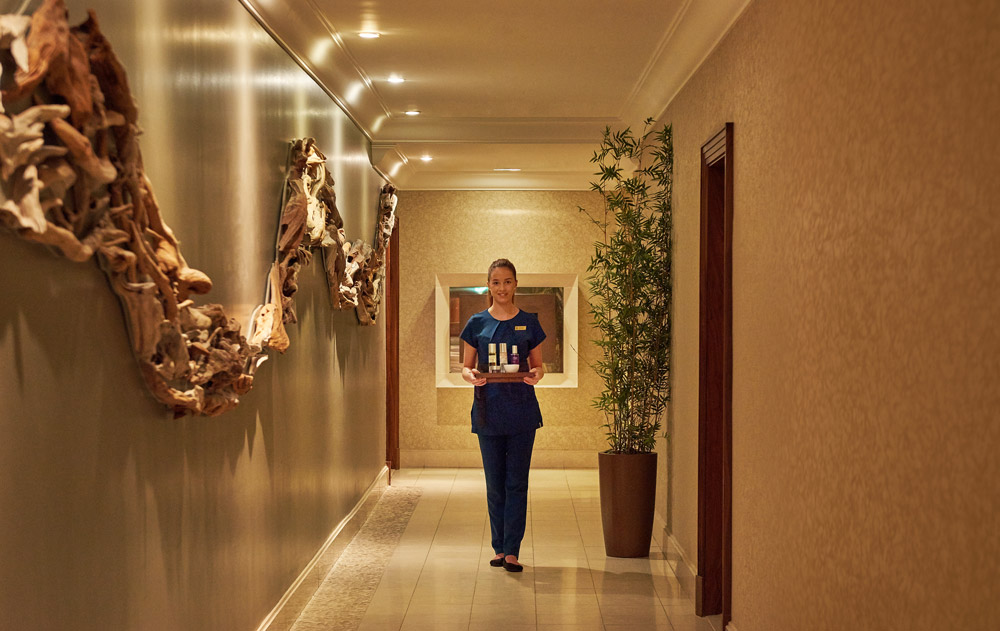 SPA WITH SCOTTISH STORY TO TELL . . .
The brand ishga used is a Scottish Seaweed Skincare product; the name is derived from the Gaelic word for water.  The Hebrides islands have some of the cleanest waters in the world, where seaweed is produce with 100% organic ingredients for the skincare line.  The seaweed contains natural antioxidants that have anti-aging properties to help protect the skin.
Ishga products work on every type of skin.  Also water from a historical Hebridean healing spring is used in the manufacturing.  There is a full range of professional products and treatments, and what I like is the staffs believes in the products and most certainly do the guests. The spa has a local feel to it, along the passageway to the treatment rooms, there is driftwood on the walls from the ocean locally, making a wonderful pattern to follow, it is so unique and striking, there are nine treatment rooms in total, all very roomy.  The unique thing about the treatment menu is that the treatments are in keeping with the sea and the whole area of Scotland, with titles to reflect this
BRACING THE POWERS OF NATURE
Created in harmony with the sea and embracing the powers of nature, this full-day therapy compilation delivers a system cleansing and skin-replenishing regime.  After a consultation with your personal therapist, you will enjoy the system boost of St Andrews Detoxifying Indulgent Envelopment, a self-heating seaweed wrap that eliminates toxins from the system.  Following your lunch, feel the difference with an Aromatherapy Associates essential prescription Facial, tailored specifically for your skin condition, and oh my word… you will feel refresh.
HOLISTIC SCOTTISH EXPERIENCE
Feel the benefits of royalty as you discover the pleasure of top-to-toe luxury. Begin with the Total Holistic Signature Experience, which encompasses all over aromatherapy experience.  This heavenly experience starts with a body exfoliation before being related to a relaxing massage, mini facial and oriental scalp massage.  A Spa cuisine lunch and tranquility tea will follow.  The afternoon will be crowned with a St. Andrews Signature Manicure and Pedicure, leaving you with an air of splendour.
ST. ANDREWS INTENSE
NOURISHMENT
Nourish body and soul with this luxurious treatment designed to rejuvenate dry, out of condition skin.  The sensual fragrance of exotic flowers such as fresh tuberose, seductive ylang ylang and rich vanilla bring their calming, expansive properties to this treatment.  An intensive salt and coffee body exfoliation stimulates the circulation and sloughs off dead cells to revive dull, tired-looking skin.  Hands and feet are given special attention with applications of rich vitamin E oil to cuticles and heels and a freshwater mud mask to truly soften and condition of the skin.  Your body is layered in hydrating and mineralizing marine algae and then massaged, Swedish style, with a blend of four highly nourishing plant oils.  Skin is then protected with velvety moisturising body butter.  Finally, a scalp massage dissolves tension and stress so that mind and body are nourish and rejuvenated.  Your skin has never felt so amazing.
HIGHLAND FLING MASSAGE
Tranquility for two, this side-by-side relaxing massage is performed in out Highland Couples suite with lights down low and candles flickering.  Sensors oil blends from Aromatherapy Associates increases the romantic ambiance of this togetherness experience.  What a way to spend quality time together for newly weds and couples.  Massages can be tailored made to your requirements.
Spa has three brands Aromatherapy Associates, OPI for nails and the Scottish brand ishga.
During the Christmas season, a community Christmas Fair is held in the main area, and links with St. Andrews University for students is encouraged, partnerships with the local community are so important for St Andrews.
Fairmont Hotels are a Canadian company based in Toronto, with many properties around the world including The Savoy London, The Plaza New York and the Fairmont Le Chatenac in Quebec City.
THIS IS NOT THE LAST RESORT FOR ME, IT HAS TO BE THE FIRST
Accolades and awards for Fairmont St. Andrews
Best Employers in hospitality Awards Caterer 2014
5 Star Awards for Best Resort Hotel UK 2013 International Hotel Awards
Golf Digest in the top twenty Worlds Golf Courses to play
The hotel also hosted the G20 SUMMIT.
You can fly to Edinburgh from Heathrow; St Andrews is forty miles from Edinburgh Airport.
Fly from Stansted, London to Dundee, about a 30-minute journey from the airport
Footnote: Two ways of spelling Bonny or Bonnie. Reference to Bonny means stunning, Scottish expression
Written by James Knight