HISTORY OF BRITAIN AND AMERICA WEAVE TOGETHER TO FLY THE FLAG OF HOSPITALITY AT STOKE PARK!
Writing articles over the last thirty years on many subjects, with emphasis on hotels, spas and luxury brands, I have never been so pleasantly surprised as when I visited Stoke Park, in the county of Buckinghamshire.  Seven miles from Heathrow and about 15 miles from my home, the property was most certainly a revelation.  The history between Britain and the USA around many of the corners, the Oval Office in The White House is said to have been inspired from an oval room at Stoke Park, and the Country Club it is today (first in the UK) was based on the great country Clubs of the USA.
The great estate can be dated back to Saxon Times
Stoke Park is in the village of Stoke Poges, dating back over 1,000 years.  In 1469 on the orders of Edward IV his daughter Mary married Sir Edward Hastings.  Elizabeth I is a part of the history of Stoke Poges, one of her trusted aids Sir Christopher Hatton was Lord Chancellor of England.  It is rumored he had an affair with Elizabeth I, he found Mary Queen of Scots for treason. 
Next in line to own Stoke Park was Sir Edward Coke a lawyer, who prosecuted Guy Fawkes and the gunpowder plotters.  When a group of Catholics placed twenty barrels of gunpowder under the Houses of Parliament, he finally retired to Stoke in 1598.  Lord Cobham, another notable person had been one of Marlborough's generals in the French Wars.  He clashed with then the Prime Minister Sir Robert Walpole.  He hired the well-known gardener Lancelot Capability Brown to develop the landscape. 
At the time Brown landscapes were very costly, he drew a plan which included linking five quadrangular pools make a river like a lake, which now forms the western boundary for the estate.  Eventually owned by the famous Mountbatten family.  Interesting fact, HRH Prince Charles and the late Princess Diana spent their first night of their honeymoon in the house.  In 1760 Thomas Penn, Lord Proprietor of the province of Pennsylvania then a British colony, who was the second son of William Penn was a Quaker who founded the colony of Pennsylvania.  William Penn Junior became the largest landowner in British history with an estate of well over the size of Ireland.  There is so much history to tell, details at the end of the article.
007 COUNTRY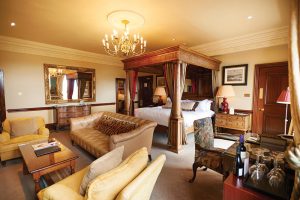 This James Bond country, very close to the world-famous Stoke Park, is Pinewood Studios.  Associated with the creation of Bond, it is famous for the scene from Goldfinger, when Odd Job with his bowler hat hits a statue for its head to fall from grace with Sean Connery looking on.  Another movie of note filmed there is Tomorrow Never Dies in 1997, along with a string of famous films including Bridget Jones Diary, filmed in the Great Hall and in the Pennsylvania Suite as well as on the lakes with Hugh Grant, Renee Zellweger and Colin Firth. In recent times Layer Cake was filmed there with Daniel Craig.
All the rooms in the Mansion Block are named after historical connections to Stoke Park, from Lancelot Capability Brown or the Coke Suite named after Sir Edward Coke, former owner of Stoke Park and prosecutor of the Guy Fawkes; (find explanation at the end of the article who Guy Fawkes was). The new block was opened in 2008, very luxurious with a very modern feel about the furniture, which is all made in Britain. 
In the Mansion Block there are many great rooms of interest including the Great Hall.  The Fountain Room as well as the Windsor Room could view Windsor Castle at one time from the house.  Currently trees obstruct it; so the views are limited.  A very notable architecture is the Repton Bridge, named after the famous architect Humphry Repton.  It is over 200 years old, restored in 2003.  It is a wonderful piece of architecture spanning over one of the lakes.
CUISINE TO SUIT ALL TASTES
There are three restaurants to serve you, all of which are very different.  Humphry's fine dining offers modern British cuisine.  The setting is perfect.  Where history blends with the cuisine and dining.  The Orangery array of light meals and the great British pass-time Afternoon Tea is undertaken, more scones is the cry.
San Marco provides an Italian experience to make you drift away to Italy and the laid back way of life.  Humphry's Restaurant has great views with floor-to-ceiling windows with a selection of lilies and orchids on display.
TEE-OFF FOR A STOKE PARK ROUND
The 27-hole championship golf course is one of the finest parkland courses in the country, created in 1908 by the legendary golf architect Harry Colt.  The 7th tee also inspired the 16th at Augusta's famous 16th.
H. S. Colt was the man behind designing the course, length of holes, which are some of the longest you will find (400 and 440 yards), golf enthusiasts take note. Stoke Park was very original allowing ladies to play on the course and in the 1920s this was unheard of.  Many of the world's greatest players have tee-off including Henry Cotton, Bernard Hunt, Peter Alliss, the late great Seve Ballestros, Tony Jacklin and Sir Nick Faldo.
BOODLES OF TENNIS AT STOKE PARK
World-class tennis is on court at Stoke Park.  The Boodles luxury jeweler sponsored tennis tournament, which is the week before Wimbledon gets under way.  A stadium built for over 1,900 spectators are enthralled by some of the top players on the circuit, including Novak Djokovic, Rafael Nadal and Richard Gasquet.  Take to the courts to participate, there are six courts, up to Wimbledon's specifications, fifteen years is the length of time the event has taken place, making it a permanent fixture on the world circuit.  There are tennis lessons available from Phil Fowler, Head Tennis Professional and three indoor carpet courts to allow you to play all year round, indoors in The Pavilion.

ACTION, TAKE ONE FOR A SPA RITUAL
Entering the spas is like arriving on a film set, revolving doors swing open for a grand entrance to a film set of leisure and lifestyle, reception and the spas area has posters of box office films and the entrance is an Art Deco temple with artwork, columns and furniture to take you on a journey back to when it was "Saturday Night at the Movies, don't matter which picture you see. . ."
Voted in the world's top 100 spas, Stoke Park carries the honor.
There are three suppliers of products, Thalgo, CACI and Aromatherapy Associates, are a team that brings variety to Stoke Park.
Many treatments are available including:
The Retreat treatment choose any two 55-minute treatments
There is a comprehensive list on-line.
There are a number of spa rituals including:
Thalgos Indoceane
115 minutes of sheer bliss, Indoceane is a heavenly spa ritual, which commences with a full-body exfoliation. Preparing the skin for an Ayurvede massage, a sublime body wrap that cocoons you, nourishing and warm.
If you want to sample the South Seas, how about trying the Thalgo Polynesia Spa Ritual. This sensorial ritual commences with an exotic island body scrub followed by a massage, incorporating warm sand pouches.
There are a number of Thalgo facial treatments:
Thalgo Silicium Super lift-facial, has said to defy time with super lifting facial designed for all signs of ageing; this is the one for me!
Aromatherapy Associates Rose Facial
The luxurious facial contains rose to regenerate, nourish and soften all skin types, especially dry and delicate skin.
CACI Super Facial
60-minute Microcurrent treatment plus one of the following for 15 minutes Microdermabrasion, Wrinkle Com, Hydra Tone Mask or a further 15-minute of Microcurrent.
Full menu of body treatments are available.
A number of men's treatments are available, including Lava Recovery designed specifically for men.  This massage targets the back and legs combining deep massage with warm Lava Shells to relax muscles and cold glacial shells to reduce inflammation.
HISTORY OF SPORT
Sport has always played a big part in Stoke Park, connections with the original football teams Corinthians and cricket with Marylebone Cricket Club MCC, based at Lords, with a number of people associated with Stoke Park history.
Nice touch is the fluffy insignia Stoke Park mini dressing gowns for the younger members of the family who are with you at the resort.  Soon to be added outdoor hot tub, is going to be ready for the summer.
With the Pavilion Club there is first-class facilities, beautiful pool with two hydro seats, Italian marble steam rooms, and I found a really interesting, absolute eye-catching aquarium, plus many other facilities, and the spa makes it an ideal place to relax.
Within the club for youngsters a creche is available.
Stoke Park is an all-action country estate club where British/American history collides, eclipsing old and new experience to make it an ideal place to sample old and new.
Here are just a few of the accolades for Stoke Park.
Top 12 Luxury Hotels in the UK Independent Newspaper
5 AA Red Star Hotel
Top 8 spas in the UK Harpers Bazaar
Britain's best Afternoon Tea Daily Telegraph
Four must spas to visit in the world Vanity Fair
Top 5 Sport Hotels in the World BA High Life Magazine
Top 10 British Spas Talter Magazine.
To learn more about Stoke Park visit www.stokepark.com
*Guy Fawkes tried to blow-up The Houses of Parliament with his group unsuccessfully. The Gun plot celebrations are held on November 5th in Britain, with fireworks and bonfires to celebrate the event.