PICTURE OF GOOD HEALTH IS THERE TO GREET YOU, AT THE CONNAUGHT HOTEL, LONDON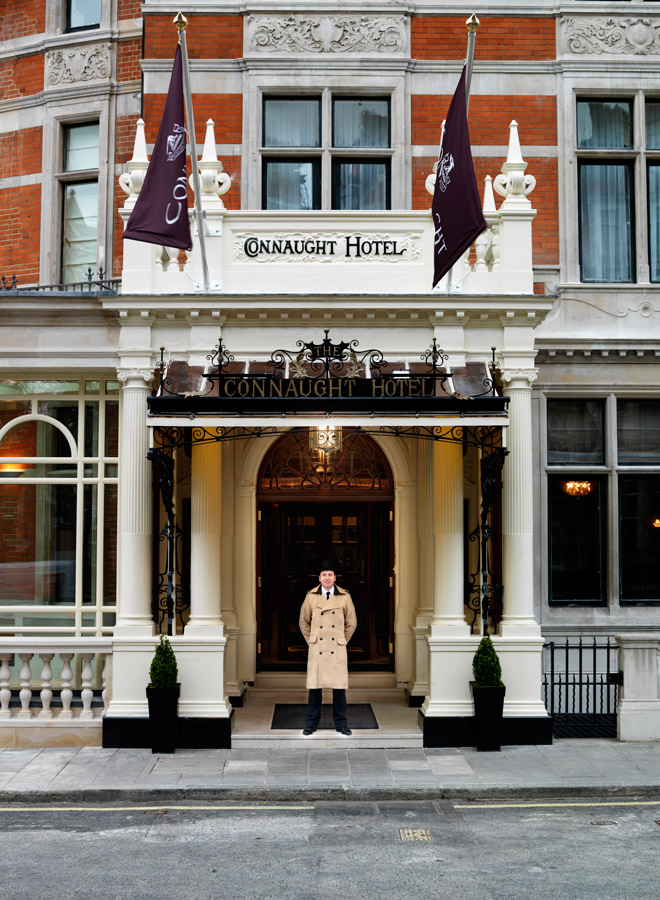 If you are visiting London for business or pleasure, what do you have in mind of a typical London hotel? The Connaught Hotel in the fashionable Mayfair area, just north of Berkeley Square where they say in the song a "Nightingale Sang", (boy that shows my age) is where the Connaught can be located.
The hotel is what I call a British institution.  It is where James Bond would feel right at home, ordering his cocktails.  British life runs through the veins of the hotel, offering this to the guests from around the world.  Which is one of the reasons why this hotel is so unique, with an old and modern twist.
As you approach the hotel, it is hard not to be impressed with the water feature called "Silence" outside, designed by Tadao Ando from Japan.  This is his first exhibit in London.  Within the water feature the water flows into a mist.  In the development there are two horse chestnuts that seem to frame the entrance of the hotel.
Icelandic design artists Kiristjana S. Williams (who went to the world-famous Central St. Martins School of Art, in London) was also asked to come-up with ideas for the hotel.  Looking to blend new with traditional.  When re-designing the Connaught, Kristjana S. Williams was asked to be involved in creating a new image, at the same time keeping the old image.  It was joining two worlds together.  Within the hotel there are hundreds of maybe even thousands of layers of 18th-century engravings, photographs, paintings and drawings.  She says she went out to create something extraordinary, something modern out of a traditional illustration style.  What's is important she says is to create an artwork that you can look into, so rather than viewing it just once, you're able to look at it again and again.  The hotel is named after Queen Victoria's seventh child Prince Arthur Duke of Connaught.  There are lots of portraits of him throughout the hotel, so Royal connections abound.  There is a great deal to complement the period including the ornate oriental drinks cabinets in each of the Connaught rooms, to give the rooms a period feel.
SUMMER DAY ON RECORD DEGREES GREET ME AT THE CONNAUGHT
The day I visited the hotel it was a truly wonderful British summers day.   33 degrees, never normally heard of in London, with the Wimbledon Tennis and fresh strawberries in full swing, new balls please, was the cry.  I have walked passed the Connaught many times, never having walked in to view the hotel. The hotel group which consists of the Art Deco showpiece of Claridges, which I have featured in The Berkeley in Knightsbridge, which I hope to feature next year.  All with very distinctive identities, yet they complement all in many diverse ways.
HISTORY EVERY STEP YOU TAKE
Inside the reception is a wood-paneling staircase you would image in a British stately home.  This is very unique to the hotel and you feel like you are standing in a National Trust property, an old piece of British history.  (At the end of the article I will give you explanation about the National Trust.)  Ralph Lauren wanted to buy the staircase and ship it to his store in New York.  The hotel would not sell, so, now there is a replica in his store in Madison Avenue, New York.  This is a staircase with steps of history to tread.
A CHANCE FOR LESS KNOWN ARTISTS TO EXHIBIT
One of the paintings I personally like is by William Wilde 1828-1898, a Capriccio view of Venice with a Prince being shown in a Gondola.  The most striking painting is located in the corridor to the elevators.
William Wilde exhibited mostly in France and 1852.  Queen Victoria invited him to Balmoral Castle in Scotland.
Another contemporary artists with exhibits, is Rachel Nee.  Her smoke drawings are made from the carbon traces of candle frame.  Exhibited throughout the Connaughts corridors is carbon forms a series of five original pieces.   Nee produced with smoke, laser-cut card and graphic pencil in 2007.  They are exclusive for Connaught.  She is a graduate of the fine art from the University of the West of England in Bristol.
Sax Impey is becoming another featured artist, who is talked about a great deal. There are six paintings and silk-screen reproductions hinging in The Connaught, which are part of the Voyage Collection of works.  He conceived upon returning from a trip by sea from Eastern Australia to Singapore, the paintings are very different.  There is a beautiful walkway to follow down the corridor where many of the paintings are hung, to the Moon Tree in the Garden of Illusion by Tom Stuart-Smith, another contemporary water feature.
The walls of the hotel are like a living gallery.  Masterpieces adorn the walls.  I am finding more and more hospitality and the arts are colliding together to give a new outlook on both aspects of life, as you can see from my article.  There is a great deal to talk about.  Connaught is situated on Mount Street a bespoke street to where luxury is …well….luxury.   The brands include Dior, Pringle, Marc Jacobs and Scotts restaurant.  This particular area of Mayfair is not so well known.  To capture the tranquility of London across the road in Mount Street is a peaceful garden, dating back to 1889/1890, which use to be an ancient burial ground.  This is not only a haven for wildlife, but for all to be able to enjoy the quiet part of London.  Within the hotel there are 121 rooms and 34 suites of all different styles.  You can keep coming back and not have the same stay twice.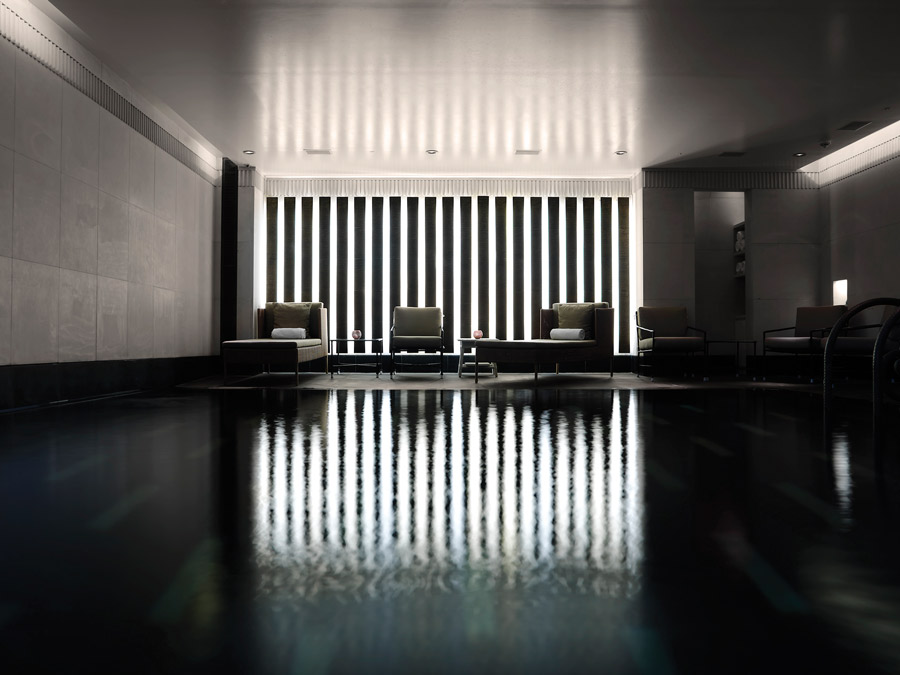 MEDITATION IS THE CONNAUGHT WAY.
Aman Spa is a lifestyle spa not so involved in the world of beauty, but rather looking at how your lifestyle is. Each day you can join local people and hotel guests and relax and let your thoughts vanish and take a journey of tranquility away from the hustle and bustle of London.  In the world of meditation, all is free.  I squat in on two mediation gatherings.  I feel relaxed and would not have believed this is taking place in the center of London.  It is a first for a London hotel.  It's like "Spring Cleaning your mind", getting rid of all the old thoughts and trouble, sand letting the sunshine in, a great experience.  The spa decor has a lovely relaxing feel with creams, browns and pastel colors.
Aman Spa offer many treatments, including the signature experiences that are from around the world, ranging from India a Chakra balancing treatment where a subtle meditative practice is used to release emotional tension.  From Thailand a unique massage and herbal compresses are used to release deep seating muscular tension, from China is restorative treatment that improves the body's QI energy, and finally from North America, a sage and cedar wood smudging followed by a grounding hot rive stone massage, used to turn over a new level. There are a number of other treatments from Reflexology, Osteopathy, and Traditional Chinese Medicine Acupuncture.  It most certainly is a spa to look after your mind and body.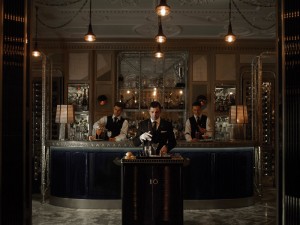 HOW TO SHAKE YOUR COCKTAIL, NOT STIRRED
The Cocktail Bar is a perfect way of mixing your cocktails.  The Director of Mixology (that is a great title for a job) is, Agostino Perrone.  He is running four mixology master classes at the world-renowned bar, so you can learn this wonderful art.  You learn how to discover information about cocktails, and how best to mix them.  I told you James Bond would be at home.
Helen Darroze's two Michelin starred restaurant is also a must to visit.  Helen is an amazing chef and selects the very best and freshest ingredients from the network of suppliers.  She has spent a lifetime gathering and cooks with precision honestly and passion.  The result is a journey of expression of French culinary craft, a mouth-watering feast to try.
The Coburn Bar perfectly brings together the mix of the traditional and contemporary in the hotel.  It feels like it has been there for hundreds of years, yet it is a new extension where you may view modern artworks on the walls.   The Connaught from the moment you arrive is a special journey.  It is that difference that makes your experience.  So let the "Silence" be broken and your stay commence.  Hotels are like living creatures of hospitality, including many senses of life.  Connaught has combined with the old and the new.  The Champagne Bar to the Aman Spa, which is a real lifestyle, it is all about being able to change but still keep your identity.
Not very often do I find a spa and hotel that have a real feel of peace that art may bring.
National Trust is a charity with 3.7 million members that look after 350 historic homes, gardens and ancient monuments and are open to the public. There are many artists exhibited at the Connaught, I have just mentioned a few.
To find out more please visit The Connaught Hotel's website.