Nothing Worked

.

 

Not the spa treatments, not the light therapy, the skin care products or chemicals, and not the visits to dermatologists and holistic practitioners. Nothing.

"In fact," says Brenda Belo, "I was inspired to become an esthetician because of the challenges I had growing up with problem skin."

Brenda, who is executive assistant to the director of Stogryn Sales' spa division, has suffered from heredity acne since she was 10 years old.

"I had varying success with treatments and products, including doctor-prescribed medications, but nothing was consistent, and I found some of the side effects unpleasant."

All that changed in May 2015 when she began taking Skin Accumax supplements – a new approach to skin care that treats the skin from the inside out.

Within a few weeks, she began to notice a difference in the amount of oil production of breakouts.

"As of now, my skin continues to improve. I still get a few breakouts once in a while but the size of my pores, the texture of my skin and the amount of the breakout have improved dramatically.

"My skin is balanced and consistently clear … and no contra indications with my continual use of the capsules."

She continues to take Skin Accumax but has reduced her intake from the recommended four capsules a day to a maintenance program of one to two capsules a day – except on those occasions when she notices her skin changing due to hormones/stress or other factors, when she raises her daily intake to four again.

The supplements were developed by the International Institute for Anti-Ageing (iiaa), a London-based distributor of beauty products, which prides itself on being in the forefront of the beauty industry.

David Alpert, iiaa's managing director, felt there was something missing in what estheticians were offering and decided to create a professional supplement range to change that. His first effort was somewhat generic.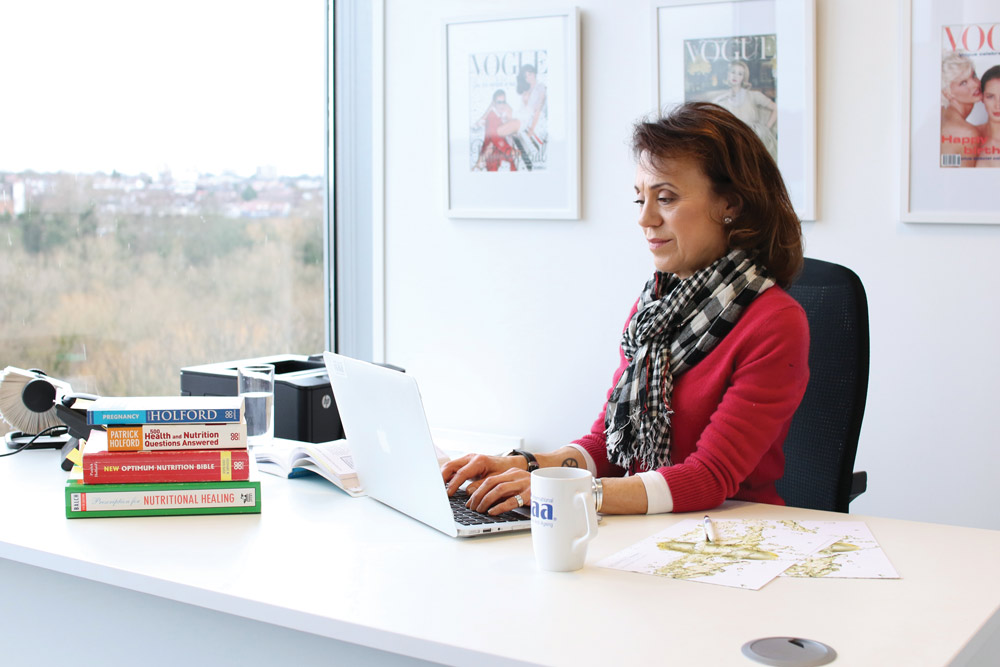 That's when Lorraine Perretta, a New York-born nutritionist, entered the picture. Lorraine, who has made London her home since 1982, was retained by iiaa as an external nutritional consultant for its Advanced  Nutritional Programme, to head up its training program and develop the brand further.
That included developing the formulas for its Skin Accumax, Skin Omegas+, Skin Antioxidant and Skin Vit A products.
Skin Accumax, which took four years to develop, deals with the underlying causes of problematic skin, while Skin Omegas+, which contains EPA, DHA and GLS, is designed to hydrate the skin and protect it from UV radiation. It also provides anti-inflammatory and skin-soothing benefits.
Skin Omegas+ is probably the most important, adds Karen Ptycia, director of Stogryn's spa division. "Omega supplements are already popular, and Skin Omegas+ is meant for virtually everyone to take, especially people with dry or dehydrated skin."
Skin Anti-oxidant contains Lutein, Lypocene and Beta-Carotene, which protect the skin and provide free radical defence.
Skin Vit A reduces oil and the skin thickening. It also stimulates blood circulation to your skin as well as cell turnover to help your skin heal. It builds healthy cells, provides anti-aging benefits, and partners beautifully with topical Vitamin A sera.
"Taken together," says Karen, "they become a powerhouse of nutrients to help you achieve clear, healthy skin. Each ingredient performs several key roles in the maintenance of your skin and allow it to return to its natural beauty and radiance.
"Each of the ingredients also performs several key roles in the maintenance of your skin, and when used together, they bring balance to your skin and enable it to recapture its natural, healthy, clear radiance."
They also protect your skin, says Lorraine, by using the same colours that protect plants from the sun's harmful rays. Lyopene, for example, is red; Beta-Carotene, orange, etc. They protect your skin the same way.
She referred to a report in the Journal of Nutrition, published in 2003, which reviewed 120 studies. Their study compared taking vitamins orally to dabbing the vitamins on your face in a cream.
It showed that oral supplements had three advantages over topical applications:
First, the vitamins are carried to the deepest levels of your skin by your blood.
Second, they feed every cell, not just where you apply the cream but between your toes and behind your ears as well. They're also more absorbable.
"In the past decade, topicals have been using every kind of technique and scientific advancement to get their vitamins into the skin," said Lorraine.
Third, vitamins are easy to take.  It's a simple matter of popping a supplement into your mouth and your body does the rest.
"That's really important today," says Glenn Stogryn, president of Edmonton-based Stogryn Sales Ltd., which distributes the supplements in Canada.
"In today's time-starved world and with most people not getting enough essential nutrients every day, if you want to maximize your skin's health and maximize your topical choices, 'Skincare from Within' only makes sense. Skin Care supplements are going to become extremely popular in the very near future, to help 'Correct, Protect and Perfect' problematic skin, dehydration, anti-aging, etc." he says.
"Making good skin cells in the first step in having great skin because a perfect, beautifully formed skin cell rises to the epidermis, where it can be treated with topicals for a great finish," notes Lorraine.
"We're talking about a new way of treating your skin. This is important because makeup can often undo all the good things estheticians do when they're fortifying and doing fabulous facials that clean the skin.
"What happens, more often than not, the first thing many clients do is pull out their makeup bags filled with old makeup that has become a breeding ground for bacteria, and slap it on their skin.
"We're all about making good skin cells – way down and deeper than the epidermis."
For Lorraine, that means phytonutrients – the vitamins, mineral and essential fatty acids, found in plants as well as Lycopene and Beta-Carotene. Lycopene, for example, is the red colour in tomatoes and an important protection for our skin against exposure to UV radiation. In a test, people who had been taking Lycopene saw the redness in their skin reduced by a third. All the ingredients in Skin Accumax – Lycopene and "a brigade of anti-oxidants" – confer the same kind of benefits.
"You need everything," says Lorraine, who talks with encyclopedia authority about everything involving nutrition. "You need all the vitamin and plant nutrients. You need both. It's not one or another. If you look at what you get in the food you eat, the level of vitamins and minerals in the food has been diminishing."
The Beta-Carotene found in the carrots we eat today, for example, is not at the same level as it was in the 1940s. So have the vitamins, minerals and plant nutrients found in other foods.
"To stay well nourished as you age, take a multi-vitamin, essential fatty acids and anti-oxidants.  If you want to boost your skin, be sure to take Vitamin A. In Canada, she notes, 40% of the population is deficient in Vitamin A. We're simply not getting it in what we eat", she adds.
The minute food goes into our bodies, it breaks it down and sends the nutrients they contain to the most important organs in your body first – your brain, heart, liver and bones.
"Your skin has very low priority in your body. It doesn't care if you look old and wrinkled. You'll still alive. Your skin is left scrambling for crumbs, simply because our bodies do not get enough of the nutrients they need."
It boils down to ensuring that your body gets enough of these nutrients to feed all your organs as well as your skin.
If your skin is dry, she says, it means you're low in essential fatty acids. That's because your skin cells use water with oil on the outside. It also means you don't have enough water in your skin cells.
More likely, she says, it's because you don't have enough fat to hold the water inside the cell. It also means, she says, that your brain, which needs a lot of fat and oil to keep it healthy, is using the fat that your skin needs.
A lot of research has gone into Vitamin A in recent years. It's been a challenge for topicals for decades, she adds, trying to get Vitamin A through the surface of the skin.
The problem is that there aren't enough receptors on the skin to absorb the Vitamin A. "We've created a supplement that will increase your Vitamin A, which normalizes collagen production and strengthens elastin. That's important because as your hormone levels decline, so does your collagen production.
"As we get older, we start to get fine lines and wrinkles, and our elastin starts to degrade. That's because elastin keeps stretching and doesn't spring back. But if you can compact the elastin again, then your skin will spring back into shape. That's why anti-oxidants are included."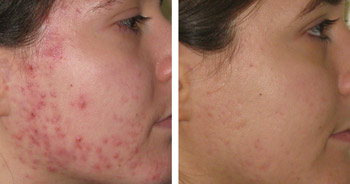 For Lorriane, the ultimate anti-aging formula can be summed up in two words: Correct and Preserve. It's why Accumax includes Vitamin B in its Vitamin A formula. Both Vitamin A and Vitamin B play a big role in making skin and protecting it, she says, and why anti-oxidants and Omegas+ and Vit A are also needed for optimum results.
She also has a lot of great things to say about Vitamin D. "It's important for your bones, and it's also anti-cancer and it also strengthens your heart. It's good for flexibility and helps with depression."
Her specialty, as a consulting nutritionist, is treating depression, anxiety and bipolar conditions, using high doses of amino acids that are found in protein as well as regulating brain chemistry and neuro-transmitters to reduce symptoms.
If you still have doubts, says Lorraine, try it for three months. "You have only your skepticism to lose." It takes that long for your skin to go through a couple of cycles of skin renewal.
Your skin will not only look better and more radiant but you'll have a bit more energy and your hair will look better as well.
"We hear these things over and over in our research. Our trials are done outside our office by a third party. After we received the results, we then tested it on 15 people in our office for 10 weeks to make sure the supplements were safe and that everyone was happy with their results.
"We see only positive outcomes for spas because they're now able to offer something else and because spas are all about well-being. Spas that make it part of their wellness program soon found that clients who take the supplements also respond to massages better. Even acupuncture seems to work better when your body is well nourished."
It also makes a difference in facials.
"We call it turbo charging your facial. We have salons that recommend their clients take vitamins for a month and come back for a facial because they prefer to work on better skin."
Training takes less than a day, adds Karen. The training sessions focus on understanding the ingredients, how to prescribe the supplements and integrate them into your treatments and analysis, and how to handle objections.
"The products are not complicated. You don't need to be a nutritionist. You already know how to diagnose their skin problems … and what the supplements can do for them."
Learn more about Skin Accumax here.